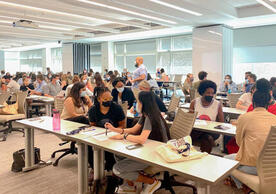 Neither global pandemic nor rain nor wind of Tropical Storm Henri could keep new Yale School of Nursing (YSN) students from completion of orientation last week as the first class to conduct its application process during the COVID-19 public health crisis. 
Dean Ann Kurth '90 MSN, PhD, CNM, MPH, FAAN saluted the future nurses for their willingness to #AnswerTheCall and join the nation's most trusted profession.
"You, the newest members of the Yale Nursing community, will no doubt leave your mark on YSN and Yale, making them stronger and better than they were before you arrived," Kurth said. "Thank you for choosing nursing—for answering the world's call at this crucial time—and for choosing Yale." 
Dean Kurth also hailed YSN as an environment that fosters robust discussion and symbiotic teaching and learning among community members.
"During your time at Yale and YSN, you will engage in difficult conversations as well as hear perspectives that may challenge some of your previously held viewpoints," she said. "As a future nurse leader, it is imperative you enter these conversations with your colleagues and faculty with open minds and with grace."
"Allow your faculty to guide you as you join our caring and curious community of nurse scholars. We are here to learn from each other and grow together. It is as much a skillset to make change effectively, as it is a skillset to heal."
Student also heard welcoming remarks from Associate Dean of Student Life and Belonging Saveena Dhall, who encouraged the audience to draw strength and camaraderie from the peers around them.
"Remember, this is your academic journey—whatever you were doing prior—working, finishing up your undergraduate studies, completing another graduate degree, or changing careers—you have chosen to bring nursing graduate studies into your life," Dhall said. 
"Look at all of your peers joining you today. You all are on a collective path. Along with your faculty, staff, advisors & mentors, your peers are also a key part of your experience and journey at YSN. You are certainly not alone. We do this together."
Those peers include this year's Orientation Leaders, a group that includes a Guinness World Record holder, ski instructor, Walt Disney World Magic Kingdom alum, and former standup comedian.
Participants in the multiple-day sessions included Graduate Entry Prespeciality in Nursing (GEPN) students, who are not already Registered Nurses (RNs); MSN-entry students who are currently RNs, and students pursuing a post-master's certificate.
Sessions for the incoming class included a meeting with new GEPN Chair Dr. Sascha James-Conterelli, DNP, CNM, LM, FACNM, FAAN and tips for academic success from Lecturer in Nursing Wendy Mackey, APRN-BC, MSN, CORLN; Adult/Gerontology Acute Care Specialty Director Dr. Laura Andrews, PhD, APRN, ACNP-BC; and Psychiatric-Mental Health Specialty Director Dr. Andrée de Lisser '79 MSN, DNP, APRN, PMHCNS-BC. 
Students also received an overview of West Campus and COVID compliance from Associate Dean of Strategic Operations and YSN Health and Safety Leader Marcia Thomas, EdD, MPH and Manager of Administration and Facilities Mary Grund.
Fall semester classes start in person and on campus August 30.