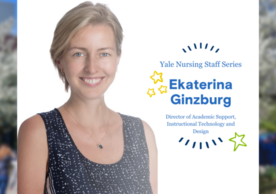 Ekaterina Ginzburg started at Yale School of Nursing (YSN) nine years ago with a singular responsibility: to support the Doctor of Nursing Practice (DNP) program. Now as the Director of Academic Support, Instructional Technology and Design, she drives teaching and learning innovation, evaluation, and assessment for all faculty and students across the school. She has a bachelor's from Herzen State University in foreign languages and a master's from Fairfield University in instructional design. Ginzburg hails from St. Petersburg, Russia, and communicates fluently in Russian, English, and French. 
What is a typical day like for you?
First and foremost, we support faculty and students to make sure that the teaching and learning process goes as smoothly as possible. We advise faculty on course design, assessment design and analysis, best practices in adult learning and we think innovatively with faculty through complex teaching methods. We spend a lot of time researching the latest best practices and trends in pedagogy, especially nursing education. 
We have also developed an online, self-paced Faculty Academy that offers resources on course evaluation interpretation, how to create a digital self, exploration of alternative assessments, and many others. We are continuing to create new offerings based on the current need and teaching environment. We engage YSN faculty in these developments to share their success stories and learn from each other.
You recently completed a program with nurse educators at Yale New Haven Health (YNHH). Can you tell us more about those projects?
We just finished our first cohort of Innovation and Creativity in Nursing Education at YNHH, a project spearheaded by Professor Emeritus Linda Honan '89 MSN, PhD, CNS-BC, RN, ANEF, FAAN. Linda, former faculty member Dr. Philip Martinez, '06 MSN, Ed.D, APRN-BC, CCRN-CMC, myself, and Instructional Technologist Josh Gleason designed and facilitated it this past year. 
We worked with nurse educators at the hospital who are responsible for educating other nurses on a wide range of topics related to patient care and hospital procedures. Our goal was to provide nurse educators with tools and resources to support their teaching efforts, which often are challenged by shift changes and the unlikelihood of having all the nurses in the same place at the same time.
We looked at how technology could help them present their content in the most efficient way, addressed content design, learning styles, and helped them write abstracts for professional development events. The program ended with the participants presenting their program group projects to YSN and YNHH leadership. These projects were developed based on current educational needs and were ready to be implemented right away. 
What excites you about working with YSN faculty and students?
I know that my work impacts the wellbeing of other people, both directly and indirectly: that's what inspires me and motivates me. I know that what I do can help improve patient care and patient safety, and maybe lead to a treatment breakthrough or policy at a hospital or health system. That's different than working at any other place. 
How does YSN fit into the greater constellation of Yale?
I've always been very grateful that I work at Yale, mainly because while working for a specific school, I also have access to the brilliant minds of all the other schools at the same time. There is a really strong network here of intellectual support, friends, and diversity of thought that all come together and solve a problem. Something I always appreciate is that this allows your full potential to come out; you're not constrained at all. And you will never fail here, because you will always find the answer if you're looking for it. 
Staff Summer Series This is the next in an occasional series of YSN staff profiles, and the conversation has been condensed and lightly edited for clarity. Check back soon to meet more of our staff.