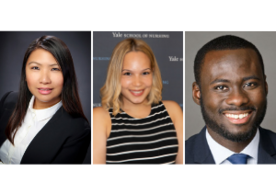 Yale School of Nursing (YSN) students Samantha Ramirez '22 DNP, Taina Lopez-Cartagena '22 DNP, and Kwaku Gyasi '23 MSN recently placed in the top three teams of the second annual Yale Institute for Global Health (YIGH) Case competition. 
Participants were tasked with developing an intervention that would address insufficient availability, accessibility, and affordability of mental health resources and services in Ukraine, focusing on children/adolescents, displaced and stateless persons, or health care workers.
First Place: Ramirez
In first place, Ramirez and her colleagues designed a community-based mental health program featuring a mobile clinic approach to care among internally displaced persons. In addition to Ramirez, the top team showcased a breadth of talent across the university: Preeti Adhikary of the Yale School of Management; Jiaying Chen of the Graduate School of Arts and Sciences working in genetics, William Eger of the Yale School of Public Health; and Yale College undergraduate Prastik Mohanraj. In addition to their $1,200 cash prize, the top finishers also secured a one-on-one chat session with a Yale global health expert. 
"The experience has been great and engaging," Ramirez said. "The case was complex, thought-provoking, and challenging. The lessons I've learned and relearned over at YSN have been invaluable. In brainstorming, I followed my DNP paper as a guide, using the background, problem statement, significance, framework, and analysis, and I also used all the innovation and budget/return on investment concepts that I learned this year."
Ramirez encouraged others in the Leadership Doctor of Nursing Practice (DNP) program to make time to compete.
"I highly recommend DNP students to join this competition in the future," Ramirez said. "I don't doubt that they will be successful as they will be provided will all the tools necessary to win."
As the top finishers, Ramirez and her team then progressed to the international round of competition held March 11-20.
Second Place: Lopez-Cartagena
Lopez-Cartagena placed second with a community PTSD treatment plan for adolescents. Her team also included Yale College undergraduates Kiran Masroor and Sarah Teng, and Yale School of Management students Tabitha Njubi and Yeye Xing. Their performance earned a $600 cash prize and a one-on-one chat session with a Yale global health expert. As a bonus, the group also received $300 as the People's Choice Award winner, a distinction awarded by competition participants and faculty. 
Lopez-Cartagena was excited to utilize the competition as a platform for her DNP work in the DNP Healthcare Leadership, Systems, and Practice Program.
"I was able to apply several learned competencies from all the courses inclusive of project management methodologies, nursing leadership skills and strategies, implementation science, and nursing innovation," Lopez-Cartagena said. "Partaking in the event has strengthened my strategic thinking and healthcare marketing presentation skills. Our team is extremely proud of our work and enjoyed collaborating with each other." 
"I am pleased to see the Leadership DNP program so well represented in this competition," said Program Director Mary Ann Camilleri, JD, BSN, RN, FACHE. "Samantha and Taina have become system thinkers who will lead health care redesign on a macro level. I am so proud of them!"
Third Place: Gyasi
In third place, Gyasi's team designed a web-based educational and outreach platform for children and adolescent mental health intervention. Gyasi worked with anthropology student Victoria Harries of the Graduate School of Arts and Sciences, postgraduate associate in immunobiology Fatma Naz Cemre Kalayci, and Yale College undergraduates Revant Kantamneni, Sunnie Liu, and Neha Middela. The third-place team received a one-on-one chat session with a Yale global health expert
"This competition was very thought provoking and pushed me outside my comfort zone," Gyasi said. "I enjoyed working with students from the other Yale schools who all came from different backgrounds but with the same passion of solving the problems that prevent millions of people from getting the care they need. I was humbled at how much I personally did not know about the business aspect of public health and was very happy to have colleagues who were well versed in business to explain those concepts to me."
Gyasi encouraged other GEPN students to sign up and already plans to be back next year.
Other YSN affiliates involved in the event include assistant clinical professor Lindsay Powell, DNP, who served as a judge, and Jenne Lahov, '21 MSN and Kelsey Jug, '22 MSN, who served on the student planning committee.