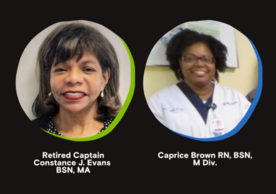 More than 30 people attended the "They'll Be Looking to You To Lead—Positive Practices to Reduce Harm While Working in FQHC" virtual session held on February 2. The event featured retired Capt. Constance J. Evans, BSN, MA, and Caprice Brown, RN, BSN, M. Div. and is the first in a series of Black History Month programming sponsored by the YSN Office of Diversity, Equity, and Inclusion.
FQHCs are Federally Qualified Health Centers, facilities that predominantly serve low-income, uninsured, and underinsured patients. They serve communities with limited access to healthcare and must meet the standards of Medicare and Medicaid to receive reimbursement. Patients pay on a sliding scale.
Many nursing students serve in these communities as recipients of the Nurse Corps Scholarship Program and the National Health Service Corps (NHSC) Scholarship Program offered through the Health Resources & Services Administrations (HRSA). Nurse Corps scholarship recipients serve in Critical Shortage Facilities (CSF) and NHSC recipients serve in Health Professional Shortage Areas (HPSAs) such as FQHCs.
According to Assistant Director of Financial Aid Wesley E. Revangil, YSN currently has more than 40 such scholarship recipients currently serving in these communities.
Understanding Complex Intersecting Barriers
Evans spent 26 years with the U.S. Navy and ran 12 regional clinics across three continents before returning home to run an FQHC in rural Mississippi. In her remarks, she stressed the importance of understanding the complexity of various intersecting barriers to care facing FQHC patients. Those elements can include housing precarity, transportation, family dynamics, and the inaccessibility of health information. 
"Before you ever touch a patient, get to know the community," she said. Evans encouraged students to learn the local landmarks: the church, grocery store, pharmacy, and hospital. How many miles separate those destinations? And how could geography pose difficulties for patients without a car, public transportation, or a family member to help them?
Evans also advocated for meeting patients where they are and using clear language free of clinical jargon. Rather than telling a patient they need to see a podiatrist, Evans suggests sending the patient to "a doctor who takes care of your feet." 
Prevention and Outreach
Brown discussed the importance of acclimating patients to care practices that anticipate potential challenges down the road. "Preventative care is the best care," she said, but patients might not always agree, and part of the job is to guide them.
"We have to help them understand the treatment modalities that we're attempting to offer and why," Brown said.
Brown also emphasized the critical nature of documentation, follow up, and outreach programs. 
"The outreach programs are lifelines," Brown said. "It shows that someone cares about them."
Both Evans and Brown discussed the necessity of building trust and rapport with patients and offered similar advice when a mistake happens, and the trust is broken: own up to the error and apologize before moving forward.
"When you have a humble heart in medicine, that's when the patient will trust you," Evans said. "'I'm sorry' goes a long way."
Upcoming Events
YSN students and alumni are invited to register for additional Black History Month events throughout February. In addition to this presentation about FQHCs, the free programming has also included a social event for Black YSN students and alumni on February 10 and a session with tips on how to build wealth while nursing on February 15.
Coming up next on February 20 is a Black student mixer for a trio of graduate schools: YSN, the Yale School of Public Health, and the Yale School of Medicine. Then on February 22, there will be a strategy session focusing on paying down student loan debt. For event details, YSN students and alumni should check their inboxes for an email from YSN Communications.