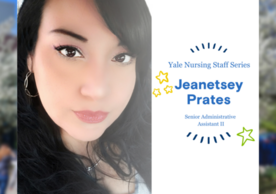 Jeanetsey Prates began her Yale School of Nursing (YSN) journey almost by accident. While working as a university temp, her boss encouraged her to apply to YSN if an opening was available. "I miss working at YSN," the supervisor told Prates. When a new job became available, Prates got an interview and made the leap. That was 21 years ago, and she recently celebrated a promotion to Senior Administrative Assistant II.
Prates started in the Academic Affairs department and since then has served in both the Acute Care and Primary Care (now MSN Program) divisions, supporting almost all the MSN Specialties. She has also supported the former Nursing, Management, Policy, and Leadership (NMPL) specialty and the Doctor of Nursing Practice (DNP) Program. 
What is a typical day like for you?
I'm here to support our faculty, and their teaching. When I wake up in the morning, I already have a To Do list, and I'm constantly prioritizing and multitasking throughout the day. That includes managing calendars, developing process improvements, anticipating what faculty need, and making sure they have the essentials in order to teach. 
Our faculty have heavy workloads, many are practicing NPs, and some are heads of clinics or departments, and they have personal lives. I want them to be able to concentrate on creating amazing NPs and I'll worry about posting the syllabi on Canvas or sending a notification email to students, etc.
What do you think is one of the school's greatest strengths?
I think we have amazing faculty; we always have. They're very dedicated and they are so invested in their students. If it's the middle of the weekend and they're home with their families and a student needs something, they don't say no. They will attend to that student.
You build really strong relationships here, and that dedication makes a difference in the long run. Our faculty respect us and what we do, that helps make us all successful and efficient. We work together, not above or underneath each other.
When I started, I was the youngest of our large senior admin group. Nancy DeMatteo mentored me for most of my career. Mentorship was important; it helped me to grow professionally. It also helped that a team ethic was instilled from the very beginning. 
What excites you about being part of the YSN community?
It has been amazing to see the change in our students from when they arrive to when they leave. You see the students grow and improve, from students to confident clinicians. 
It is great to see some of our students become part of our faculty. They were taught well and got great experience elsewhere, but they want to come back and share that with others. That is very rewarding.
Staff Profile Series This is the next in an occasional series of YSN staff profiles, and the conversation has been condensed and lightly edited for clarity. Check back soon to meet more of our staff.