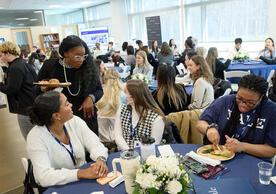 Yale School of Nursing (YSN) recently hosted nearly 100 guests for Admitted Students Day, a program designed to help admitted students envision themselves thriving as Yale nurses and midwives. Sessions covered everything from financial aid and life on West Campus to attending graduate school as a parent and ordering scrubs in just the right shade of blue. 
Dean Holly Powell Kennedy, PhD, CNM, FACNM, FAAN invited the acceptance letter–holders to join YSN as the school enters its second century, continuing a legacy of leadership in the profession.
"100 years ago, YSN became the first school within a university to prepare nurses through an educational program instead of an apprenticeship," Dean Kennedy said. "We poured the foundation that would build nursing as a career of highly skilled practitioners, clinical experts, and scientific researchers."
Associate Dean of Enrollment Management Dr. Zachary Maggio, PhD, congratulated the admitted students on their acceptances and shared the school's confidence in their readiness for the program.
"We firmly believe that those of you standing among us today are the nursing and midwifery leaders of tomorrow; that your experiences and abilities have well-prepared you to succeed in the field; and ultimately that your time here will equip you with a foundation for a successful career working to build a healthier future for all."
Exploring Academic Programs and Simulation Spaces
Many admitted students were considering acceptance to one of YSN's signature pedagogical innovations, the Graduate Entry Prespecialty in Nursing (GEPN) program. This three-year course of study starts with a first-year intensive that prepares students to pass the NCLEX licensing exam and welcomes students even without prior healthcare education or work experience. The first iteration of this model started in the 1970s and the timeframe and lack of a Bachelor of Science in Nursing (BSN) degree requirement presented a disruption in nursing education at the time. 
Simulation Lab Director and GEPN Co-Chair Dr. Christine Rodriguez, DNP, APRN, FNP-BC, MDiv, MA discussed the program, clinical placements, coursework, and expectations, and also directed tours of the Simulation Lab. This hands-on portion allowed students to engage with the high-fidelity mannekins, anatomy models, and other equipment like audio learners of lung sounds through a stethoscope.
Admitted Students Day also included programming for Registered Nurses (RNs) who are looking to become Advanced Practice nurses. 
Senior Lecturer in Nursing Dr. Wendy Mackey '93 MSN, '22 DNP, and Associate Dean of Student Life and Director of the Midwifery Faculty Practice Erin Morelli '00 MSN, CNM, CLC, RN, FACNM, provided a first-hand perspective of the MSN years at YSN.
"It's wonderful to welcome so many RN-entry students today," Morelli said. "These healthcare professionals bring a unique set of skills and expertise to their YSN experience, and the whole school benefits from this symbiotic relationship."
Event attendees were thrilled to connect with faculty in each of the eight specialties: 
·      Adult Gerontology Acute Care Nurse Practitioner (AGACNP)
·      Adult Gerontology Primary Care Nurse Practitioner (AGPCNP)
·      Family Nurse Practitioner (FNP)
·      Nurse-Midwifery (NM) 
·      Pediatric Nurse Practitioner-Acute Care (PNP-AC) 
·      Pediatric Nurse Practitioner-Primary Care (PNP-PC)
·      Psychiatric-Mental Health Nurse Practitioner (PMHNP)
·      Women's Health Nurse Practitioner (NM/WHNP) 
Each student elects one of these disciplines to pursue as their career path. Specialty directors discussed program specifics, including courses and clinical expectations.
Advice from Current Students
This year's event is the first in-person iteration held since 2019, but no matter whether on-campus or online, one of the program's highlights always includes advice from current students.
Adult/Gerontology Acute Care NP and Yale School of Public Health student Anastasia Eberhardt '23 MSN, '23 MPH encouraged students to look beyond nursing as part of their Yale experience: "Explore knowledge beyond your comfort zone and take classes at other graduate schools!"
Family Nurse Practitioner Michael Garza '25 MSN extolled the value of establishing a support system: "Find your community! The experience of YSN is best shared hand-in-hand with people who will be able to support, understand, and validate you through this process."
His theme was echoed by Nurse Midwifery student Samantha Nebiolo '24 MSN: "Don't forget to rely on your support group outside of YSN. It may feel like you never have the time, but connecting with the people that are rooting for you on the outside will always serve as a remind of why you are doing this work. Don't forget to rely on your support network inside of YSN. Your classmates are in this with you and the student community is stronger than you know!" 
Nebiolo also offered tips on how to navigate graduate school as a parent.
Women's Health Nurse Practitioner student Aria Ahmed '24 MSN gave enthusiastic permission to savor the moment: "Celebrate! You were admitted to a prestigious and well-respected university, and you deserve to celebrate the accomplishment."
She also shared practical advice: "If you choose to enroll, pay attention to your email and meet all the deadlines provided. It'll make the enrollment process a lot smoother." 
Curious about Yale Nursing?
Are you interested in becoming a Yale Nurse or a Yale Midwife? Request more information here.