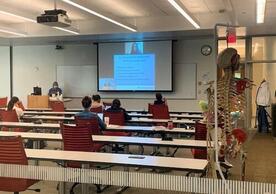 Yale School of Nursing's shift to online learning back in the spring was like a mad dash for the finish line without sneakers, a course map, or much experience running. Thankfully, the fall transition arrived with better equipment, more direction, and some valuable logged miles.
On the equipment front, Lecturer and Simulation Director Virginia "Ginger" Sherrick, EdD.(c), MSN, APRN, FNP-BC, RN-BC, CHSE, CNE and members of the Simulation Unit worked with Lecturer Sarah Korpak, MSN, Ed, MS, AG-ACNP-BC, RN-BC, CNE to greet new students with fully loaded nursing kits. The YSN insignia duffel bags included catheters, a blood pressure cuff, demonstration medications, nasal gastric tubes, and assorted dressings and gauzes for wound care practice. In short, everything they would need to ace their lab classes.
"The response has been amazing," Sherrick said. "Students were excited to see what they would be working with right away." 
"These kits allowed us to continue to offer laboratory sessions in an online environment to complement and/replace in person sessions during the pandemic. We are now considering how we can make these kits standard issue beyond the global pandemic to enhance our simulation teaching options."
The Academic Support Unit (ASU) team, led by Ekaterina Ginzburg, Director of Academic Support, Instructional Technology, and Design, created the Faculty Academy to provide clarity of direction. The completely online, self-paced courses included information for online learning course design and communication, organizing Canvas sites, methods for determining alternative assessments to multiple choice testing, best practices for recording and posting lectures online, and optimizing IT settings. Ginzburg's team also expanded and updated the Teaching from Home course, which focuses on the transitioning of face-to-face courses to remote delivery.
Drop-in sessions were held all summer to offer individual and group instruction, which provided faculty and students with the opportunity to practice Zoom classroom. Faculty also participated in workshops with the Apple Education Team and the Poorvu Center for Teaching and Learning. Faculty who taught spring classes shared their suggestions with colleagues who took up the baton for fall courses.
"The new hybrid modality of offering instruction in person and online at the same time is a challenge, but we have built a solid infrastructure to accommodate the need. We had a smoother start in the fall with online courses since we were able to build on the foundation of what we accomplished and learned in the spring," Ginzburg said. 
Ginzburg emphasized that the school's current approach is best categorized as emergency remote learning and teaching, not what most folks think of as the completely polished online learning environments that have been refined and tested many times with much larger resources and more time. 
Dr. Martha K. Swartz, PhD, RN, CPNP, FAAN Professor of Nursing and Chair of the Master's Program, said that after overcoming a few early hurdles she was able to really appreciate some of the conveniences to a style of instruction that accommodates both in-person students and classmates who beam in.
"One of the advantages of Zooming has been to be able to prerecord applicable sessions that can be watched ahead of time and then use actual class time to apply case studies or host small group discussions," Swartz said. "It has pushed us into this more creative way of using class time."
Swartz also highlighted the massive turn to telehealth as another major shift in care delivery and clinical education due to COVID-19. Clinical faculty and students have already incorporated telehealth in patient care and precepting methods. This approach to delivering care will still be around long after the fall semester breaks the "2020" tape and looks ahead to a new year.
---
this article and many more can be found in the fall 2020 issue of yale nursing matters, read more.