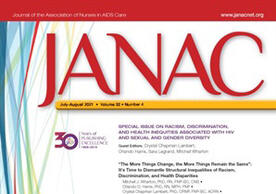 Yale School of Nursing (YSN)'s Commitment to Anti-Racism and statement of solidarity with the Black community were recently cited in a paper for the current issue of Journal of the Association of Nurses in AIDS Care that analyzed similar documents from 18 schools of nursing and three prominent nursing organizations following the murder of George Floyd.
"A Review of Nursing Position Statements on Racism Following the Murder of George Floyd and Other Black Americans" examines statements released by the American Academy of Nursing, American Association of Colleges of Nursing, and the American Nurses Association in the summer of 2020. 
The authors conducted a thematic analysis of the professional organizations and a content analysis on statements from the schools of nursing, concluding that the themes were generally aligned. 
The six themes explored throughout the article are: 
Condemnation of police brutality
Acknowledgement of the effect of racism on health
Calls to combat racism
Calls to end systemic racism
Calls to stand by or support those working against racism or discrimination
Calls for respect for all persons
YSN is one of 10 schools with a statement that includes all six themes, but one of only a handful that directly calls for confronting White supremacy or White privilege in the fight against racism. As quoted in the paper, the YSN statement reads, in part, "To achieve better health for all people, we acknowledge White supremacy as an insidious, toxic, and expansive system that must be renounced, including within our school."
The article highlights three key considerations:
Racism affects health through multiple pathways of embodiment over the course of a lifetime, including social trauma, economic deprivation, and environmental degradation.
The murders of Floyd, Ahmaud Arbery and Breonna Taylor galvanized national support for the Black Lives Matter movement and intensified efforts by the nursing profession to respond to racism as a public health crisis.
The position statements examined in the paper assert an organizational or institutional commitment to confronting racism and providing direction for nurses to engage in anti-racist actions.
The paper is authored by Amelia Knopf, PhD, MPH, RN, FAAN, of Indiana University, Indianapolis; Henna Budhwani, PhD, MPH, of University of Alabama at Birmingham; Carmen H. Logie, PhD, MSW, of the University of Toronto; Ukamaka Oruche, PhD, RN, FAAN, Indiana University, Indianapolis; and Erin Wyatt, MSN, RN, of Indiana University, Bloomington. 
Coauthor Claire Burke Draucker, PhD, RN, FAAN, is the Angela Barron McBride Professor of Psychiatric Nursing at Indiana University, Indianapolis. The chair is named for YSN alumna Dr. Angela Barron McBride '64 MSN PhD, RN, FAAN.
Read the full article in the journal's July-August 2021 issue here.