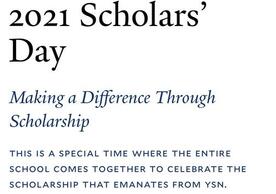 The annual celebration of nursing scholarship known as Scholars' Day took place April 9 and featured presentations from a post-doctoral fellow and Yale School of Nursing (YSN) students from the PhD and DNP programs.
"This is an opportunity to host an exchange of information and to share the important work being conducted by YSN students and post-doctoral fellows," said event co-host and PhD Program Co-Director Lois Sadler, '79 MSN, PhD, RN, FAAN. "It is also a great chance to highlight the programs at YSN."
Keynote speaker Associate Dean for Global Affairs and Planetary Health LaRon Nelson, PhD, RN, FNP, FNAP, FAAN, addressed attendees on this year's theme: "Making a Difference Through Scholarship." Nelson also presented his own research: The Complexities of Care: Towards Multi-Level Interventions to Promote Health Equity.
Dean Ann Kurth,'90 MSN, PhD, CNM, MPH, FAAN, saluted the students and underlined the significance of nursing research during the global pandemic. "This was a year where the importance of nursing science and evidence has been so crucial—to accelerate care in COVID, to make clear health disparities and syndemics, and to demonstrate how nursing heals." 
All MSN, PhD, and Doctor of Nursing Practice (DNP) students and affiliated post-doctoral fellows were invited to submit abstracts for presentations and posters. The Planning Committee reviewed and selected the final four presentations.
Research on Maternal Fetal Care
Postdoctoral student Abigail Wilpers, '16 MSN, '19 PhD, WHNP-BC, presented "The Parental Journey of Fetal Care: A Systematic View and Metasynthesis." Wilpers is a women's health nurse and a Postdoctoral Research Fellow in the National Clinician Scholars Program at Yale. She practices and conducts research in the field of maternal-fetal surgery and serves on the Board of Directors of Hope After Loss, a non-profit organization that supports local families experiencing pregnancy or infant loss. 
Studying Sleep in Young Women with Breast Cancer
Youri Hwang, MSN, APRN, FNP-C, gave the PhD presentation, "Sleep in Young Women with Breast Cancer: A Narrative Review." Hwang was an oncology nurse in Seoul, South Korea, and received her MSN from Johns Hopkins School of Nursing. Her dissertation research is a mixed methods study design to explore stressors, coping, and sleep health in young women with breast cancer. 
A Nurse Led Telephonic Approach for COPD Self-Management
Third-year DNP student Esther Pavlovsky, MS, RN, presented "Evaluation of a Nurse-Led Telephonic COPD Self-Management Program on Health Care Utilization." As the Senior Director for Care Continuum at Mount Sinai Health System in New York City, Pavlovsky is responsible for the health system's post-acute care strategy, operations, and nursing care management. She leads a team of population health nurses and therapists who focus on quality, outcomes, and utilization by patients in the community. Pavlovsky spent 10 years in post-acute care operations at Premier Home Health Care. 
Reduction of Hospital Readmissions for Sepsis 
Leadership DNP student Ron Yolo, MSN, MBA, RN showcased his work in a poster and a presentation titled "Preventing Hospital Readmission in Patients with Sepsis: A Multi-Modal Discharge National Framework." Yolo currently serves as the Chief Nursing Officer (CNO) at Dignity Health Glendale Memorial Hospital & Health Center in Glendale, California. Yolo is the appointed lead CNO for the seven Los Angeles area hospitals for CommonSpirit Health's Southern California division, where he collaborates with six other CNOs and leads more than 7,000 nurses. 
Poster Session & Event Video
The virtual poster session showcased a wide continuum of quantitative, qualitative, and mixed methodology research and translational improvement projects. To learn more, check out all the posters here. 
For event video, stay tuned to the YSN YouTube channel.
Congratulations to all participants and organizers on an excellent program!