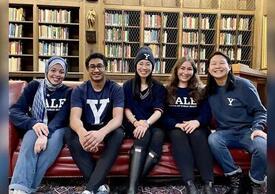 By Rosalind D'Eugenio
Five students from diverse fields of study at Yale collaborated to solve a global health challenge and take home this year's first prize and $6,000 from the Emory Morningside Global Health Case Competition held on March 19th. Representing a range of fields including nursing, health care management, medicine, and global health, the winning team members include Zoe Che YSN '24, Olivia Canie YSPH '23, Ehsan Abualanain YSPH '22, Elizabeth Zhang YSM '25, Revant Kantamneni YC '24. "We feel a lot of our success can be attributed to the diversity, cultural understanding, and global experiences encompassed by each of our team members who collectively have lived across sixteen different countries," said team leader Che.
More than 40 teams from 15 countries and six continents participated in the virtual competition focused on the case topic "Taking on Environmental Health Disparities: Developing Health Action Plans to Improve the Health of Indigenous Peoples." Groups were asked to represent organizations that advocate for the rights of Indigenous Peoples and develop strategies and goals for addressing environmental health disparities. The Yale team presented a three-tier proposal to a panel of eight judges that focused on providing access to traditional foods to the Inuit population in Canada. They specifically addressed food security, sovereignty and safety in an area facing climate change, economic resource, and environmental degradation challenges. This population saw spoilage of hunted meat and dangerous harvesting that made it nearly impossible to retain their tradition diet. 
After their first presentation and a question-and-answer session, the team had a waiting period before they would find out if they made it to the finals. "We prepared a lot and thought we had a solid presentation but were a bit worried about the q and a session with the judges," shared Canie. The excitement of hearing their team called as one of the six finalists was quickly met with a "twist" – they had to revise their presentation in one hour for the final round with an additional 1.5 million dollars to the project budget to be specifically allocated towards a health equity advocacy plan. "We actually liked the twist as it allowed us to address another issue we had come across - ensuring that Inuit people living away from their communities had access to their traditional foods. Many Inuit people requiring hospital care must travel to where they were not able to access the foods they need - this is an important issue that the twist allowed us to address," explained Canie. "And the challenge of creating a multifaceted solution truly pushed our boundaries as learners and made us consider real-world concerns that affect us now and, in the future," added Canie.
"When they announced us as the winners the judges said our plan was clear and feasible and that we had a well-organized question and answer session – the part of the presentation we were worried about most ended up being one of biggest strengths," said Canie. While they haven't yet celebrated together, they hope to when back on campus after spring break.
Before entering the Emory competition, the team won the Yale Institute for Global Health Case Competition and developed a solution to address staggering rate of malnutrition in Haiti, which been worsened by economic downturn and food insecurity, due to recurring natural disasters, political instability, and COVID-19. "The YIGH competition played a major role in our preparation for the Emory competition. We were able to connect with previous YIGH winners and met with Yale faculty Mayur Desai and Rafael Perez-Escamilla who were invaluable in providing feedback on content and presentation skills," said Che. In addition, the team was advised by YSPH PhD Candidate Sappho Gilbert, whose locally-partnered dissertation research centers on Inuit food system and health challenges and opportunities in the Canadian Arctic. Che also shared that the YIGH competition helped them go into Emory better organized so when they received the case they would know how to best strategize and set their focus for their presentation. The YIGH competition was successfully led by a student committee representing schools from across campus directed by Nukte Goc, program administrator at the Yale Global Health Leadership Initiative.
"I am so proud of the Yale team and look forward to their contributions to global health in coming years – whichever career path they may choose," said Saad Omer, director, Yale Institute for Global Health. The YIGH competition was created to provide an opportunity for Yale students and trainees to apply critical thinking skills and develop innovative solutions. Winners receive a cash prize and represent Yale at the Emory International Global Health Case Competition. "The case competition is a great training ground for students from across campus to take what they've learned in the classroom and apply it to real-world problems in global health," said Mike Skonieczny, deputy director, YIGH.