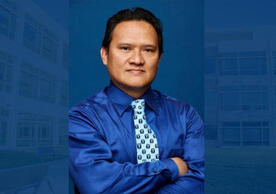 By Jaime McCormick | Yale Alumni Association
Dr. Jasper Erwin Tolarba '15 DNP, RN, CNE, CGNC, FACHE, FAAN is among the inaugural graduates of the Yale School of Nursing Doctor of Nursing Practice (DNP) Class of 2015 and recently served as a panelist for a YSN Centennial event. He is the first foreign educated nurse to hold the Director position at the Commission on Graduates of Foreign Nursing Schools or CGFNS International. At present, he is the inaugural Beatrice Hofstadter White Endowed Chair for Nursing Practice, Education, Research, and Innovation at Nuvance Health System and Sacred Heart University in New York and Connecticut. Dr. Tolarba spent almost a year in the Kingdom of Jordan as a 2019-2020 Fulbright Research Scholar under the US-Jordan Binational Fulbright Commission. He is the Founder and President of the Society of Internationally Educated Nurses in North America (SIENNA), a professional association of IENs who migrated or planning to migrate in the United States and Canada. 
Dr. Tolarba strongly believes that all healthcare organizations need to establish effective onboarding and acculturation programs for all internationally educated healthcare professionals and should advocate for their ethical recruitment. He loves to travel with his family and plays chess and table tennis as a hobby.
Below he shares how the Yale community helped shape the person he is today and his appreciation for the campus architecture.
Why Yale?
Yale has been instrumental in honing my knowledge and skills not just as a nurse but holistically as a person. It has instilled in me the values of serving others and providing better health for all people. When I entered Yale School of Nursing as part of the inaugural DNP cohort in 2012, I was really drawn into the vast network and resources that I would have at my disposal. Subsequently, I came out of the program in 2015 with the realization that with those opportunities and privileges come a great responsibility to help others so that they could be effective and productive in their own roles in providing help and service to other people. Yale's global health program and international links allowed me to look at a broader perspective which I would not have otherwise seen if I had kept in my own comfort zone. 
---
This piece was originally published by the Yale Alumni Association. Read the complete article here, including Dr. Tolarba's most enduring memory of Yale and his favorite place in New Haven.
---
How would you answer? Share your responses with the YAA and you might be featured in an upcoming edition of "Getting to Know You."
And be sure to check out all the Q&As in the series by visiting the Getting to Know You page.