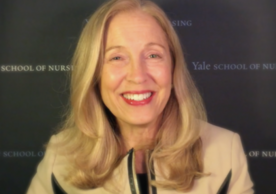 What does pop chart crooner Michael Bublé have to do with the stethoscope world of Yale School of Nursing (YSN)? New students are finding out with a little help from Janene Batten and the library—but definitely not Google!—as YSN faculty, students, and staff bring a fully intact sense of humor to a semester that has been peppered by unprecedented circumstances.  
"While we recognize that these are unusual times, please know that this does not diminish our enthusiasm about you and your incoming cohort joining our YSN family this fall," said Saveena Dhall, Associate Dean of Student Life and Belonging in her warm welcome remarks.
Orientation 2020 offers an exclusively virtual slate of programs and activities, and not even the shadow of COVID-19 can block out the bright anticipation of fall classes and classmates.
Orientation modules can be accessed asynchronously, at the student's own pace. Sessions include a preview of simulation exercises with Virginia "Ginger" Sherrick, APRN, FNP-BC, RN-BC, CHSE, CNE, an introduction to the school's Commitment to Anti-Racism from Director of Diversity, Equity, and Inclusion Raven Rodriguez, and the inspiring Yale Nursing Rally Cry. 
"For some of you, this is your first step into nursing. For others of you, you're bringing years of previous experience. We're excited to share in your energy and your commitment to the profession as this new school year gets started," said Dean Ann Kurth, '90 MSN, PhD, CNM, MPH, FAAN. "I know that you'll take what you learn at YSN to become the kind of leaders the world desperately needs right now. You will leave your mark on YSN and Yale, making them stronger and better than they were before you arrived." 
The new cast of Orientation Leaders shared their pre-Yale lives, and experiences include the Peace Corps, AmeriCorps, and the core of a honeybee hive. Other returning students arrived at YSN with the skills to make the perfect Starbucks coffee drink, grow an urban farm, and serve on an opioid response team.
As Bublé himself might say, the new class has a host of reasons to be feeling good about the year ahead.