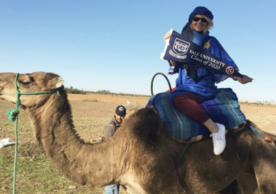 Today is National Student Nurses Day, and we are thrilled to highlight Christa Varnadoe, BS, RN, OCN. Christa will graduate later this month from the Adult Gerontology Primary Care Nurse Practitioner Specialty. As the COVID-19 pandemic began to take shape, Christa was moved to write a piece advocating for her fellow nurses, and it was published as a letter to the editor in ONS Voice.
While at YSN, Christa was an orientation leader, and she served as a member of the International Society of Nurses in Cancer Care Policy and Advocacy Committee. She presented in Morocco on behalf of Oncology Nursing Society and The American Society of Clinical Oncology on the importance of the nurse's role in clinical trials for cancer patients. Christa was a 2019 recipient of the Nightingale Awards for Excellence in Nursing scholarship, the Oncology Nursing Foundation Master's Scholarship, and the American Cancer Society Graduate Nursing Scholarship.
In addition to her core curriculum at YSN, Christa took two advanced oncology classes and the community health elective, where she fulfilled her duties over two semesters as a graduate student volunteer in HAVEN Free Clinic, a student-run primary care clinic that partners with Yale University to provide the New Haven community access to comprehensive, high-quality health care free of charge. Christa served the community of New Haven as the Community Health Fair Co-committee chair of Oncology Services. She worked with the Yale University Community Health Fair team by planning services and activities, recruiting healthcare practitioners to perform services, and managing logistics related to oncology services provided.
Congratulations, Christa!