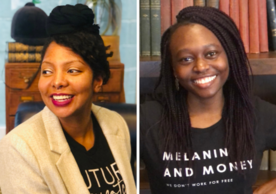 When nurse midwifery/women's health student Ashleigh Evans '23 MSN began planning Black History Month programming for Yale School of Nursing (YSN), she drew on previous experience in the U.S. Navy by keeping her mission in mind: helping YSN grads move into the upper echelons of the profession.
"How do we all leave this program as the best leaders and advocates?" Evans asked herself. "We want to set the standard, not follow the standard. We want to prepare our classmates to be the loudest, the strongest, and the most effective advocates in health care."
Working with the YSN Office of Diversity, Equity, and Inclusion (DEI) and the Black Collective student group to provide administrative support and funding, Evans and Family Nurse Practitioner (FNP) student Renata Ndahayo '23 MSN organized five events throughout February. 
While Evans spearheaded the overall slate, Ndahayo took on a behind-the-scenes role, pitching in with day-of Zoom logistics to make sure everything ran smoothly, handling event promotion across multiple platforms, and even coordinating a photo shoot for marketing materials. 
Something for Everyone
The students' hard work resulted in a calendar that welcomed all members of the YSN community. Up first was a session with experts on Federally Qualified Health Centers (FQHC) featuring Caprice Brown, RN, BSN, M. Div. and retired Capt. Constance J. Evans, BSN, MA. Constance J. Evans started the family tradition of nursing, showing an early example of the career to daughter Ashleigh. Then there was a social event for Black YSN students, staff, faculty, and alumni that fostered warm conversations across the virtual landscape. 
"Alumni and faculty shared beautiful stories of why they chose their specialty and why they were drawn to this field," Ndahayo said. 
Later in the month, financial educator Naseema McElroy invited all nurses to become millionaires, sharing her personal story of building wealth after paying off more than $1 million in debt, including $200,000 from a nursing master's degree. As a mentor to Evans, the women met through the Financial Independence Retire Early (FIRE) movement, and they bonded over shared goals and experience in real estate. 
A second YSN mixer welcomed Black students from the Yale Schools of Public Health and Medicine. The two social events were so well received that Evans and Ndahayo would like to host encores in the future.
The final session focused on eradicating student loans through repayment and loan forgiveness programs with certified student loan professional Meagan Landress. 
A Topical Approach
Lecturer in Nursing and Student Equity Coordinator Heather Reynolds, '80 MSN, CNM, FACNM praised the lineup for its topical approach.
"What is unique about the program this year is that Ashleigh and Renata touched on some of the issues that are so germane to first-generation BIPOC (Black, Indigenous, and People of Color) students," Reynolds said. "They are learning to navigate wealth and the enormous debt they leave school with, while also learning to do powerful, great things to improve the health and wellbeing of marginalized communities." 
Associate Dean for Global Affairs and Planetary Health and Acting Associate Dean for Diversity, Equity & Inclusion LaRon E. Nelson, PhD, RN, FNP, FNAP, FAAN gave full credit to the students for their leadership. "They drove Black History Month from the very beginning," Nelson said. "The students approached us with great ideas and energy, and we were happy to help them execute their plans."
Evans was pleased with the YSN community's engagement throughout Black History Month and hopes the school will continue to host similar events.
"There is infinite excellence in the Black community," Evans said. "There's a lot for us to learn and we can go far if we tap into it."
Support YSN DEI Initiatives
If you'd like to support the school's DEI initiatives, which include everything from scholarships to lecture series and events, you can make a gift to YSN's Annual Fund at giving.yale.edu/supportNURAnnualFund.