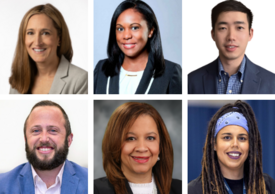 Yale School of Nursing (YSN) is celebrating Nurses Week (May 6-12) by sharing insight and expertise from YSN faculty. Follow us on Facebook, Instagram, LinkedIn, and Twitter for to see the new quote each day.
Nicole Langan Maciejak, MSN, APRN, CPNP
Lecturer in Pediatrics
"A career as a pediatric nurse practitioner is both challenging and rewarding, particularly in primary care. There is so much more to the work than well child visits and vaccinations. I have held newborns, seen patient's first steps, and celebrated college acceptances—sometimes all in the same day. As a primary care PNP, you have the unique privilege of become a part of your patients' lives from the very start. The work is hard, but the rewards are great." 
Dr. Jennifer McIntosh, PhD, RN, CNE, PMH-BC, NEA-BC 
GEPN and MSN Lecturer
"One of the principles that has guided my personal life and nursing career is a quote often attributed to Maya Angelou: 'I've learned that people will forget what you said, people will forget what you did, but people will never forget how you made them feel.' Small acts of kindness and moments of caring matter. Regardless of the setting, we can make a difference in another person's life by treating them with kindness, empathy, respect, compassion, and dignity."
Dr. Zhao Ni, PhD, BMedSci, RN
Assistant Professor and Researcher
"Hearing constructive feedback from patients on my research projects is the best part about working with them. As a nurse scientist, I always have the desire to reach new horizons and forge new collaborative relationships through research. Many of my research questions are originated from patients' health needs. Also, patients are important collaborators who help me test newly-developed health interventions."
Dr. Christine Rodriguez, DNP, APRN, FNP-BC, MDiv, MA
Director of the YSN Simulation Lab
"Despite the preparation we receive, it is perfectly reasonable to not know everything. The COVID-19 pandemic has taught us to humble ourselves and continue to learn. Humans are not textbooks, and we have a calling to treat each person we encounter in our care with the utmost dignity and respect. Each person has their own lived experiences, and it is vital to meet individuals right where they are."
Dr. Angela Richard-Eaglin, DNP, FNP-BC, CNE, FAANP
Associate Dean for Equity
"If there is one misconception I could clear up about nursing, it would be that nursing is 'less than' when compared to medicine; that people choose nursing because they aren't 'smart enough' to get into medical school. The reality is that people choose nursing because there IS a choice, and nursing offers a different pathway to service that impacts healthcare in multiple venues in innovative and varied ways."
Nathan Levitt, FNP-BC, MSN, RN, BSN, MA
Director of LGBTQ and Gender Justice Learning
"When I have had my hardest day as a nurse/nurse practitioner, I remember my patients who have told me that the most important thing to them is being validating, affirming, and compassionate. There will always be more to know, and you will always feel like it is impossible to be knowledgeable on every clinical matter, but you will learn that what patients remember is how they were treated and how you listened to them. The healthcare environment can be so traumatizing and discriminatory to marginalized populations. Creating a safe and respectful space for patients is one of the most amazing things you can do as a nurse."  
Want More Yale Nurses?
Celebrate some of our favorite alumni Nurses by reviewing our Distinguished Alumni Award winners and Decade Award winners. The 2022 honorees will be announced on Tuesday, May 10.