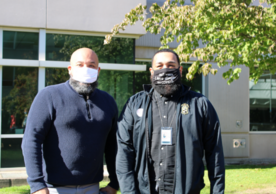 On the kind of day that prompts residents to extoll the superior glories of a New England fall, the Yale School of Nursing (YSN) Office of Diversity, Equity, and Inclusion (ODEI) welcomed students, faculty, and staff to Fall Fest: A Family Affair on October 21. More than 150 attendees enjoyed music, treats, trivia, and fellowship. 
As guests circulated among the tables of kettle corn, assorted cookies, and information stations, Associate Dean for Equity Dr. Angela Richard-Eaglin, DNP, FNP-BC, CNE, FAANP, highlighted the importance of ODEI interacting with colleagues and scholars.
"Today was a wonderful opportunity to engage with members of the YSN community across all constituencies and to introduce our office to our stakeholders and let them know we are here for them in any capacity that they need us," she said. "We also made sure to have a virtual option for community members who were unable to attend in person. This event is just one step in fostering the culture of inclusive excellence that we aspire to achieve. We know that YSN has had some challenges in these areas, and we are determined to build on the school's previous efforts to make positive, measurable improvements."  
Lecturer in Nursing and Student Equity Coordinator Heather Reynolds '80 MSN, CNM, FACNM, distributed material on how to intervene in bias incidents. Techniques include offering help to whomever is being targeted, naming the problem publicly, and disrupting the situation.
"Folks can feel shocked in the moment they're witnessing a bias incident, but these tips are designed to help them feel more prepared to take action safely and reach a positive outcome. We're hoping to get volunteers from faculty, staff, and students to facilitate training of their peers in these intervention techniques," Reynolds said. 
ODEI Director Maurice Nelson, MeD, CDE, and Senior Administrative Assistant Eddie Quiles not only conceptualized and spearheaded this event but both were everywhere at once, directly contributing to creating the sense of camaraderie and belonging that was expressed by so many who attended. Mastering the playlist, cheering on cornhole games and hula hoop enthusiasts, and distributing swag bags. 
"Since I arrived earlier this year, I have connected with so many of our faculty, staff, and students," Nelson said. "But I am thankful that this event allowed us to talk and laugh (and play giant Jenga) in person."
Quiles also directed guests to try the trivia, and it's safe to say that everybody learned something. For example, the school was founded in 1923 and the centennial is just two years away. YSN admitted the first African American students in 1944, and the first male graduate is a member of the Class of 1955.
Senior Administrative Assistant for the PhD Program Lorena Fonte and Senior Administrative Assistant for the Office of Global Affairs and Planetary Health Mary Ann Marshak staffed a YSN Wellness information station. Visitors gleaned tips on mental wellness self-care, stress management techniques, and an enthusiastic invitation to join the virtual Turkey Trot in November. Interested parties can sign up via email and follow @YSNWellness on Instagram.
Family Nurse Practitioner (FNP) student Disa Yoo '23 MSN engaged with guests about the Addiction Medicine Collaborative, an interdisciplinary student organization among the Yale health professional schools. The group seeks to collaboratively enhance professional and public education concerning substance use; to promote and foster the interests of students, health professionals, and advocates for substance use assistance and recovery; and to encourage scholarly inquiry concerning substance use disorders as they impact health care professionals and the public.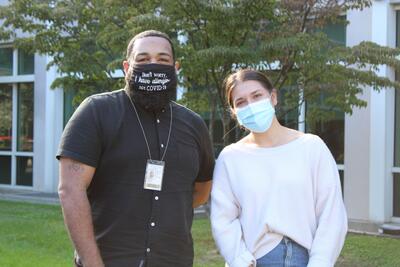 Volunteer Rachel Romero '22 MSN, also an FNP student, signed in guests and directed them to the various displays and goodies. "I was excited to be a part of Fall Fest because we weren't able to celebrate last year, and I really enjoy coming together as a school," she said. "Being able to gather in a safe way outside of the classroom was a welcome break. Thank you to the Office of Diversity, Equity and Inclusion for putting together such a fun event!"
---
This event was also cosponsored by the Dean's Office.