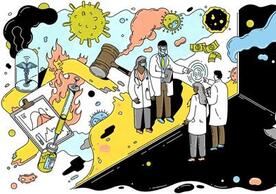 Throughout the COVID-19 global pandemic, Director of the Yale Institute for Global Health (YIGH) Dr. Saad B. Omer, MBBS, MPH, PhD, FIDSA, has discussed everything from vaccine hesitancy and efficacy to policy strategy with a variety of local and national media outlets. Included here is a sampling of his most recent media contributions. 
The New York Times included Omer's recommendations in its piece "14 Lessons for the Next Pandemic." Omer advocated for developing a vaccine allocation plans early and deploying them to states so they can put them into action right away. The Atlantic sought his expertise on variants and breakthrough cases., and he talked to Time about how to address the credibility issue of vaccines in Israel.
WFSB Eyewitness News talked to Omer about his reflections on COVID-19 one year after the pandemic began, and The Washington Post quoted him on the efficacy of the three COVID-19 vaccines now being used in the U.S. Roll Callinterviewed Omer about the importance of a coherent vaccine strategy in an article about vaccine booster shots, and The CT Mirror discussed with him how to best measure vaccine success.