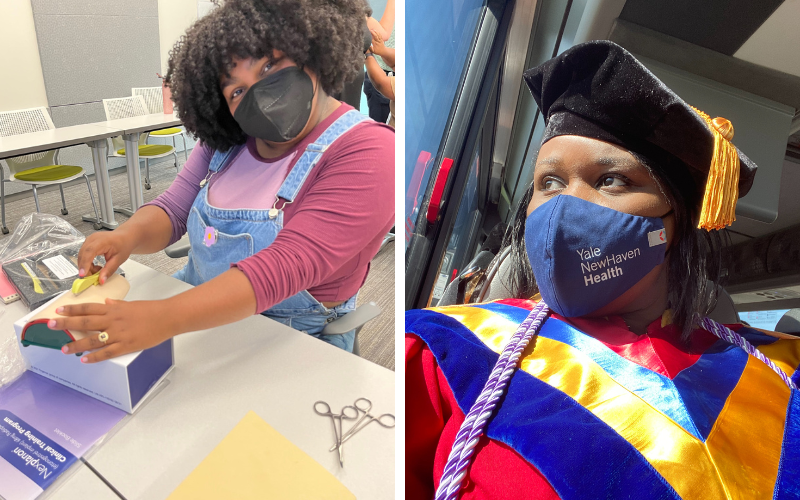 Jenliee Jaquez '23 MSN and Specialty Co-Director Dr. Tamika Julien.
International Day of Midwife takes place on May 5, and this year Yale School of Nursing (YSN) checked in with one graduating student and one faculty member to ask them about their passion for this unique specialty.
Jenilee Jaquez '23 MSN

Student Marshal at Yale Commencement on May 22
What inspired you to pursue midwifery as a specialty?
"What brought me to midwifery was the need to address the racial disparity in the maternal mortality rate and fight for Black women and birthing people, which will always be my guiding thread. Along the way, I have learned that practicing midwifery is a lesson of life: a lesson in love, in trust, in justice, in honoring community and in healing. 
When applying to midwifery school, my inspiration was the resistance and care demonstrated by Black Grand midwives of the South and Black and Indigenous Parteras of the Caribbean and beyond. Now, I feel content when I say that I am additionally inspired by my outstanding peers, my mentors, and the patients and communities we have the honor of serving."
Tamika Julien, DNP, CNM, WHNP-BC, CLC

Women's Health Nurse Practitioner Specialty Co-Director
What do you love about being a midwife?
"I enjoy being a midwife because birth is beautiful! I love caring for individuals during their pregnancy and labor and birth experience; it truly is a life-changing moment for families and to be a part of that is an honor. I also enjoy giving back to the midwifery profession by teaching and precepting students. 
As a midwife of color, I believe it is vital for students to learn in a culturally diverse educational setting which is representative to their experience of caring for underserved communities. It's important for students to be able to see themselves and their communities reflected in their learning environment in order to feel safe, recognized, and valued. Students should feel a sense of belonging within their institution which promotes academic success." 
More on Midwifery
You can learn more about midwifery by joining nearly 10,000 online learners who have taken YSN's Global Quality Maternal and Newborn Care Coursera class for free online. The course was developed by Specialty Co-Directors Michelle Telfer, DNP, MPH, CNM, FACNM, and Joan Combellick '91 MSN, PhD, MPH, CNM.
Now through June 24, Dr. Telfer is collecting supplies for a midwifery trip to Uganda this summer. Students and faculty will work with nurse midwives and traditional midwives at a birth center founded by Mother Health International, and donations will be presented as gifts. 
Support this effort by making purchases at the Amazon Wishlist; new and gently used cloth diapers are especially prized. Learn about the 2022 YSN trip to Uganda here.