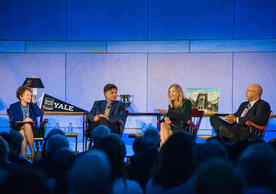 In the fall of 2018, the new Yale Explores series traveled to Philadelphia to discuss "Planetary Health: Safeguarding Human Health and the Natural Systems on Which It Depends." In the City of Brotherly Love, YSN Dean and Linda Koch Lorimer Professor of Nursing Ann Kurth '90 MSN, PhD, CNM, MPH, FAAN discussed to the urgency of using science and practice to achieve better health for all people and the planet. 
She joined the panel with two other Yale faculty experts: Daniel Esty '86 JD, the Hillhouse Professor of Environmental Law and Policy; and Paul Turner, PhD, acting dean of science, Faculty of Arts and Sciences, and the Elihu Professor of Ecology and Evolutionary Biology. 
Yale Club of Philadelphia President Mark Curchack '69 kicked off the evening by welcoming nearly 200 members of the Yale community, friends of  Yale and general public attendees curious to hear about Yale's work. Former PBS NewsHour chief global correspondent and Yale Jackson Institute senior fellow Margaret Warner '71 moderated the panel discussion. The program covered topics ranging from climate change to global water consumption, and the audience came away with a sense of the strong connections between the health of the planet and the health of the people who occupy it. 
Yale President Peter Salovey '86 PhD also addressed the crowd, reinforcing the importance of collaboration across fields of study to tackle such a broad, complex problem. After the evening concluded, Yale Explores was off to New York and San Francisco. YSN and Yale Explores would meet again in Los Angeles, the final stop of the West Coast tour.