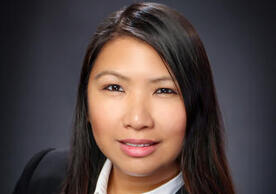 Samantha Ramirez'22 DNP is a nurse practitioner for the liver transplant program at Keck Medicine of the University of Southern California in Los Angeles. She is also a recipient of the prestigious Yale School of Nursing Gruber Nursing Fellowship. The following is an account of her experience working in a clinical setting during the COVID-19 (coronavirus disease) pandemic, as told to Yale School of Nursing (YSN). 
This is part of an occasional series of YSN community members sharing their COVID-19 experiences.
This unprecedented pandemic has led to sudden transformation in healthcare. Telemedicine restrictions relaxed. Telehealth coverage expanded. HIPAA regulations bent. In-person office visits switched to telemedicine. Elective procedures and surgeries were canceled. Within my institution, efforts to prevent the spread of COVID-19 have been placed. These include social distancing, limited entry points, temperature screening, universal masking, isolated screening facilities for patients and health care workers, and proper hand hygiene. All patients are screened and triaged for the novel coronavirus. Prior to urgent procedures and surgeries, patients are tested for COVID-19. Some outpatient staff members are also asked to assist inpatient due to the shifting medical needs.
Some states have roadblocks, preventing advanced practice registered nurses (APRNs), such as nurse anesthetists and nurse practitioners, to practice to the full scope of their education and training. In order to support the needs of our health care system to respond to COVID-19, states have lifted supervision requirements on nurse practitioners. The restriction to practice without physician oversight has been temporarily suspended in five states: Kentucky, Louisiana, New Jersey, New York, and Wisconsin. Fifteen other states, including California, Massachusetts, and Texas, partially waived supervision requirements. The ease in restriction has led to an increase in workforce and responsiveness to battle this crisis. It is apparent that the limitations in some states are unnecessary. In light of this pandemic, I am hopeful that APRNs will be granted permanent full practice authority nationwide.
My YSN Doctor of Nursing Practice (DNP) class has communicated well during this pandemic. We talk daily about the challenges we face and discuss potential solutions to the problems. We share ideas and current practices in our institutions.
I find comfort and great relief knowing that I have my peers to discuss my challenges with; we really benefit from sharing.
Health care systems, communities, and healthcare workers should collaborate to defeat the COVID-19 crisis.