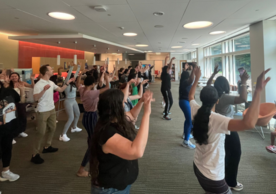 By Lizamishel Boateng
New Haven Promise Scholar
Yale School of Nursing (YSN) Assistant Professor Sandy Cayo, DNP, FNP-BC, PhD(c) and GEPN Lecturer Charleen Jacobs-McFarlane, MS, ANP-BC hosted a cardiovascular health and Movement event in July, a collaborative program that featured expertise from Alvin Ailey American Dance Theater. 
In addition to a heart-pumping dance class, the event also included an expert panel discussion and presentations by students in the Graduate Entry Prespecialty in Nursing (GEPN) program.
The Power of Dance
The event opened with a panel of six speakers, each sharing their insights and expertise on cardiovascular health and movement and how it appears in their daily lives and professions. 
The panel included Lisa Johnson-Willingham, Director of Ailey Extension; Ann Cowlin, Movement Specialist at Yale University's Athletic Department; Katherine Tucker, Clinical Program Director of Outpatient Programs at the Heart and Vascular Center at Yale New Haven Hospital; Family Nurse Practitioner student Gianelle Kaliangara '25 MSN; Adult/Gerontology Primary Care NP student Shayda Hariri '25 MSN; and Amanda Reid, PhD, a Dance Historian and Assistant Professor in Theater and Performance Studies at Yale.
Willingham emphasized the transformative effects of dance and its positive impact on participants.
"At Alvin Ailey, we make dance accessible to all people and all ages. We see dance as an opportunity for personal development through health and dance movement. It not only improves mental health but can also improve one's self-esteem," Willingham said.
Cowlin, a former ballet dancer and teacher, discussed how movement can improve mental health. 
"Dancing in the community is so important," Cowlin said. "The physical activity of moving changes your cardiovascular and can reduce depression and anxiety."
Nursing Within Communities
Tucker described a Yale New Haven Health Hospital initiative on blood pressure monitoring that took place within local barbershops and advocated for students to seek opportunities beyond traditional clinical settings.
"People of color are disproportionately affected by many heart disease issues," Tucker said. "We started the barbershop initiative to educate people in the community about cardiovascular health and check up on members of our community. As nurses, you are responsible for serving inside and outside the hospital. There is so much power in advocating and getting involved in your communities."
After the panel, Alvin Ailey dance instructor Judith McCarty led eager participants through an Afro-dance class. 
Student Research
The Cardiovascular event concluded with a series of presentations by first-year GEPN students, showcasing their collaborative research. 
On example was presented by Women's Health Nurse Practitioner student Izzie Alley '25 MSN, Nurse Midwifery student Sneha Bentley '25 MSN, and Nurse Midwifery/Women's Health Practitioner students Charlotte Andrews '25 MSN, Frieda Bequeaith '25 MSN, Grace Lesser '25 MSN, and Judit Vega '25 MSN. Their presentation addressed the question: "Does sleep quality interventions result in improved glycemic control among pregnant individuals with gestational diabetes as compared to metformin?" 
The students delved into the significance of sleep hygiene in improving glycemic control among pregnant individuals with GDM.