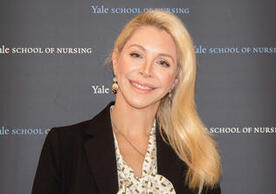 Vanessa Coppola '22 DNP runs her own practice, Special Needs Primary Care, in New Jersey. As the sole practitioner, she provides consulting guidance to schools for children with intellectual and developmental disabilities. She is the founder of the grass roots coalition "Beauty for Autism," an ambassador program designed to promote social awareness for children and adults with autism and special needs. Coppola is also the recipient of the prestigious Yale School of Nursing Gruber Nursing Fellowship. 
This is part of an occasional series of YSN community members sharing their COVID-19 (coronavirus disease) experiences.
---
YSN: How is COVID-19 affecting your daily work right now?
The entire paradigm of care has shifted. We have learned to become more nimble regarding delivery methods of care. Telehealth and virtual services have really taken root, and it has been interesting to witness the vast deployment of these technologies across multiple care environments simultaneously. 
YSN: What has surprised you about operating in this pandemic environment?
The sense of camaraderie and shared spirit that has emerged from this pandemic is inspiring. I hope that as a society, we can hold onto that spirit as we emerge from this pandemic stronger and wiser, with a renewed sense of empathy.
YSN: If you could tell the public one thing about this pandemic, what would it be?
This is not a time to become complacent. The virus has humbled us as a society in terms of our fragility and it has emphasized to all of us on a world stage, the inequities and inequalities that persist in our society. It is interesting, that in the wake of its destruction, it has shown us that no one is immune; we all share vulnerability. 
YSN: How can people and institutions best support nurses, midwives, and other frontline healthcare providers?
"We need to come together as a community and address the disparities that affect our frontline and essential workers. We need to ensure the safety and wellbeing of those who place the safety and welfare of the lives of others before their own." 
It is a moral imperative that we do this. We need to petition and lobby that these safeguards are put in place legislatively. It is our ethical responsibility as a society to do so. 
YSN: Are you able to engage in any self-care practices right now? If so, what are they?
I try to take a few minutes each day to mediate. I find it helps me become centered. I also spend time with my family and try to take a walk each day. Little moments can be very impactful right now.