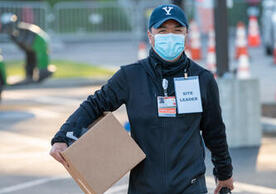 Doctor of Nursing Practice (DNP) graduate of the Yale School of Nursing (YSN) Dr. Ron Yolo '21 DNP, MBA, MSN was recently promoted to Chief Nursing officer (CNO) of the Southern California Division of CommonSpirit Health, where he will be responsible for the nursing enterprise of 18 hospitals. 
In this executive leadership position, he will support the achievement of the system's high-priority goals in safety, quality, population health, patient experience, employee relations, and community engagement.
Yolo's advisor, Director of the DNP Program in Healthcare Leadership, Systems & Policy Mary Ann Camilleri, JD, BSN, RN, FACHE, applauded the advancement.
"Ron's proficiency in all of the hard and soft skills required of a principled nurse leader is outstanding," Camilleri said. "When Ron came to Yale he was a CNO of just seven months at Glendale Community Hospital, in Los Angeles, a CommonSpirit facility. Ron has not only excelled in the DNP Program but also at CommonSpirit, where his rise is impressive."
For his Leadership Practicum, Yolo led the development and dissemination of CommonSpirit Health's National Nursing Vision under the guidance of system CNO Kathy Sanford and in collaboration with the Nursing Executive Council.  
In addition to his responsibilities at CommonSpirit, Yolo can also be found at the front of classroom (or on Zoom) working with current DNP students. He recently joined the DNP faculty of his program, teaching the third-year Leadership Immersion courses for DNP project implementation.
Earlier this year, Yolo was also honored for his exceptional humanity at a mass-vaccination site in Los Angeles County, California. His DNP project, "Preventing hospital readmission in the sepsis patient: A multi-modal discharge national framework," was featured at YSN's Scholars' Day.