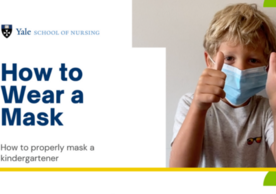 A group of YSN students is debuting a series of eight videos to show elementary school–aged children and teens how to combat COVID-19 through PPE and handwashing best practices.
Audrey Webb '21 MSN and Kate Jewson '21 MSN spearheaded the effort, and together with several classmates they wrote scripts, shot video on Webb's iPhone, edited the content, and narrated the audio. Work began during the summer, when Jewson and Webb were collaborating from opposite coasts.
The project started as an idea from Lecturer Elyse Borsuk, '90 MSN, CPNP-PC, APRN and Clinical Site Coordinator Sandy Storck, who proposed it to Pediatric Nurse Practitioner Specialty Director Dr. Alison Moriarty Daley, PhD, APRN, PPCNP-BC, FAAN as a resource for clinical partners and a health education experience for the PNP students.
"We asked the students to jump in and they just ran with it," Moriarty Daley said. "I am so proud and grateful; this was a tremendous amount of work. The students had pretty limited resources in terms of equipment and even access to young children they could interact with safely. Everyone worked so hard and I think this series empowers youth to safeguard their own health."
The two stars of the packages designed for youngsters are Lane, 9, and Booth, 5. Webb has nannied for the family for multiple years and knew that finding little partners was going to be a challenge during a pandemic. 
"I called the mom and basically said 'I need your children!' " Webb said. It was important to the team to show people who were the right age, and their involvement added authenticity. "We had prepared the scripts in advance but when it came time to shoot we knew we just had to do it live," Webb said. "Working with Lane and Booth made it much more realistic."
"Filming with the kids was so fun!" Jewson said. "They put their own individual magic touches on it."
Tiffany Henry '21 MSN and Stephanie Mora Hernandez '21 MSN act out the videos aimed at older students.
Webb and Jewson hope the videos will be an asset to families with school-aged children.
"The pediatrics department felt compelled to provide a resource for kids and try to take the burden off of schools and the community a little bit," Jewson said. "We really wanted to provide a helpful service." 
To watch the videos, check out the YSN YouTube channel here. To download an accompanying set of printable handouts showing best practices, click here.