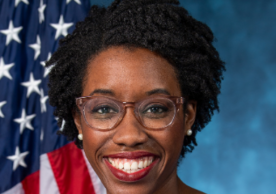 Yale School of Nursing (YSN) is thrilled to announce Congresswoman Lauren Underwood as the 2021 Commencement speaker. 
"Congresswoman Underwood is a nurse, a fierce champion of women and people of color, and a skilled policymaker who brings compassion and clinical expertise to the House of Representatives," Dean Ann Kurth, '90 MSN, PhD, CNM, MPH, FAAN said. "We all look forward to hearing Congresswoman Underwood's reflections on the role of our shared profession. The Class of 2021 has been indelibly shaped by the SARS-CoV-2 global pandemic, and we are grateful for the opportunity to celebrate them in person."
YSN will hold an in-person ceremony for graduates on Friday, May 21, at the school, provided public health conditions allow for it. Congresswoman Underwood will be a part of the ceremony via a pre-recorded speech in order to comply with the university's commencement policy where only graduating students will be part of the in-person festivities.
As President Salovey noted, epidemic guidance precludes family and friends from attending this year's YSN commencement in person, but guests are welcome to watch the ceremony on video and Underwood's remarks will be also be available to the general public. More details will be forthcoming as soon as they become available. 
Underwood in Congress
Congresswoman Underwood serves Illinois' 14th Congressional District and was sworn into the 116th U.S. Congress on January 3, 2019. Congresswoman Underwood is the first woman, the first person of color, and the first millennial to represent her community in Congress. She is also the youngest Black woman to serve in the United States House of Representatives. 
Congresswoman Underwood co-founded and co-chairs the Black Maternal Health Caucus, which elevates the Black maternal health crisis within Congress and advances policy solutions to improve maternal health outcomes and end disparities. She earned her BSN from the University of Michigan and an MSN/MPH from Johns Hopkins University. 
In February, Congresswoman Underwood along with Congresswoman Alma Adams and Senator Cory Booker, unveiled the Black Maternal Health Momnibus Act of 2021, historic legislation to save moms' lives, end racial and ethnic disparities in maternal health outcomes, and achieve maternal health justice for Black women and all birthing people of color. 
The Momnibus makes critical investments in addressing social determinants of health, funding community-based organizations, growing and diversifying the perinatal workforce, and improving in data collection processes. It also includes new legislation to address the impacts of COVID-19 and climate change on maternal and infant health.