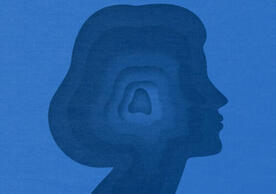 Yale School of Nursing (YSN) announces the launch of its first-ever online master of science in nursing (MSN) course of study: a three-year, part-time Psychiatric-Mental Health Nurse Practitioner (PMHNP) program for RN-prepared nurses. Applications for the inaugural Summer 2023 cohort are now open through February 28, 2023. 
Dean Ann Kurth '90 MSN, PhD, CNM, MPH, FAAN, FACNM hailed the new initiative as a step toward addressing the country's urgent mental health needs. According to the American Association of Medical Colleges, 150 million people in the United States live in communities facing shortages of mental health professionals. 
"This new program empowers students with the skills and competencies needed to best serve their communities," Dean Kurth said. "These students will graduate ready to provide care for individuals of all ages with complex psychiatric needs, which is so needed. We are thrilled to extend this 'Yale Nursing everywhere' approach across the country."
Executive Deputy Dean Dr. Carmen Portillo, PhD, RN, FAAN, who was instrumental in the conception of this program, said, "It was vitally important to everyone who worked on this effort that we make YSN's existing excellence in nursing education more widely available. We leveraged the best aspects of online education delivery to bring our world-class faculty, curriculum, and clinical experiences to the next generation of Yale Nurses who want to advance their careers." 
"The world is in a mental health crisis and desperately needs the skilled practitioners and leaders that Yale School of Nursing produces. These practitioners will become leaders within the discipline and health systems."
University Provost Dr. Scott Strobel, PhD, added, "Yale is proud of the School of Nursing's leadership in healthcare education, and we are committed to extending our educational programming to address critical care gaps, such as the lack of accessible psychiatric services highlighted by the recent Covid-19 pandemic. The University and the School of Nursing look forward to welcoming our first cohort of students next summer."
Program Details
The PMHNP program combines live online classes taught by YSN faculty, synchronous and asynchronous assignments, in-person clinical training, and short-term, intensive on-campus immersions in the New Haven, Connecticut area. The part-time program includes 52.5 credits hours and is designed to be completed in three years. Graduates will be prepared to sit for the American Nurses Credentialing Center (ANCC) PMHNP board certification exam. 
Associate Dean of Enrollment Management Dr. Zachary Maggio, PhD, emphasized how well the program aligns with the goals of prospective students at this stage in their careers.
"The PMHNP program is designed for practitioners who want to equip themselves with the advanced training necessary to make a difference in the mental health and well-being of the communities they live and work in, wherever that may be," he said. "Yale School of Nursing is now making it possible for these talented and dedicated nurses to realize the next step in their careers by expanding their scope of care to include these critically important mental health services."
Applicants must possess a Bachelor of Science in Nursing and an active RN license. Dr. Maggio and his team plan to host a series of online information sessions for prospective students in the coming months. Prospective students are also invited to connect with admissions staff to discuss how the program aligns with their academic and professional goals and have their questions answered.
Applications submitted by January 17, 2023, will not incur the $100 application fee. The final deadline for application to Summer 2023 entry is February 28, 2023. 
Prospective students can request additional information here.
Classes for this first cohort begin May 15, 2023, and going forward, the program will have an intake for summer, spring and fall classes.
A History of Nursing Leadership
YSN's history of leadership in nursing education begins with the school's founding in 1923. It was the first school within a university to prepare nurses under an educational rather than an apprenticeship program. 
Annie Warburton Goodrich, the former chief nursing inspector for U.S. Army hospitals during World War I, was appointed as the first dean of YSN and served as the first female dean ever at Yale University.
The school's first Black student, Elouise Collier Duncan, blazed her trail when she graduated in the Cadet Nurse Corps in 1946. An obstetrical nurse, she later became an educator herself at Howard University in Washington, DC.
In 1974, former dean Florence Wald brought the hospice model of care to Connecticut from the United Kingdom. The school will celebrate the 50th anniversary of this milestone in 2024.
In 2012, YSN launched a hybrid Doctor of Nursing Practice (DNP) program for mid-career nurses who wish to become innovative healthcare leaders. It was the first hybrid degree at the university. A clinical DNP, also delivered in hybrid format, was launched in 2021.
Dr. Lynn Malerba, 18th Chief of Connecticut's Mohegan Tribe and a 2015 graduate of YSN's DNP program, was recently sworn in as Treasurer of the United States. She is the first Indigenous woman to hold the role.
The launch of this new online program coincides with YSN's Centennial celebration, which starts in the fall of 2023. With this innovative program, YSN will shape the next century of learning and broaden the reach of future leaders to communities across the nation.