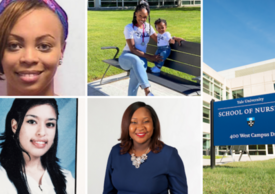 Yale School of Nursing (YSN) attracts top-notch students from across the country and around the world, but it also recognizes exceptional talent closer to campus. The Hill Regional Career Magnet High School ("Career") in New Haven offers health and business tracks and has prepared multiple graduates to join the YSN community.
Clinical Doctor of Nursing Practice (DNP) student Shaylice Bragg '15 MSN, APRN, PMHNP-BC is a 2006 Career alum and says it was an easy decision to pursue the healthcare route. In addition to hailing from a family full of nurses, Bragg's aunt is the administrative assistant in Career's school-based health center (SBHC).
As a Career student, Bragg spent a lot of time in the clinic and became well acquainted with Pediatric Nurse Practitioner Specialty Director Dr. Alison Moriarty Daley '94 MSN, PhD, APRN, PPCNP-BC, FAAN, who opened the site through Yale New Haven Health in 1999 as the school-based clinic NP and has remained at the helm ever since.
"Career did a lot for me, and I was offered so many options I wouldn't have had elsewhere," Bragg said. "Inner-city schools get a bad rep sometimes, and people aren't always aware of the gems and opportunities that are available until they seek them out." 
For Bragg, unique experiences included a Yale-affiliated intensive program, a full ride for a summer stint at Choate Rosemary Hall, and course credits at Gateway Community College. In a Career biology class, Bragg visited the Yale School of Medicine cadaver lab. She was delighted to encounter the same professor again years later as a YSN Graduate Entry Prespecialty in Nursing (GEPN) student. 
Bragg credits Dr. Moriarty Daley, her principal, and other Career staff for providing critical guidance and encouragement. Now back at YSN for her second Yale degree, she has thrived under the guidance of mentor Dr. Dilice Robertson, DNP, APRN, PMHCNS-BC, PMHNP-BC since her GEPN year and they are now in private practice together. With Dr. Robertson's encouragement, Bragg felt empowered to precept for the first time. 
"I really enjoyed it," Bragg said. "I love bringing up new nurses and giving back in the way that was given to me."
Family Nurse Practitioner (FNP) student Shinelle Wilkins '23 MSN, MBA, is a 2013 Career graduate who already had a connection to the school before she enrolled.
"I chose Career because my sister was already there by the time I applied for the lottery. At first, I thought I wanted to be a pediatric physician and I knew it would gear me toward healthcare and business, so it felt like a good fit," Wilkins said.
Wilkins also attended Career's cadaver class at Yale Med and spent three summer weeks on the Yale College campus taking classes and getting a feel for undergraduate life.
"I was so glad I took advantage of that opportunity," Wilkins said. "It exposed me more to the sciences and got me thinking about what I wanted to do going forward. In comparison to some of my friends who attended other high schools, I felt like I was better prepared for developing what I wanted to do in the long term. Career prepared me for thinking about the future."
After earning her MBA in healthcare administration, Wilkins recalled a transformative conversation with her own Nurse Practitioner (NP), who pointed out the advantages of an accelerated nursing program. As the mother of a newborn, Wilkins knew she would face different challenges than her classmates but felt prepared for the rigorous course of study.
"During GEPN year I had a baby with me, and I was very appreciative that we had classes online.  I was so stressed about caring for a baby and being a full-time student because I knew in advance how intense the GEPN year would be. My NP precepts for the GEPNs and I know Shaylice well, so I understood what was coming. We had a lot of support from YSN faculty who were really understanding last year and I'm so grateful for that."
Pediatric NP Primary Care student Cinthya Chumpitaz '22 MSN, graduated from Career in 2004 and is back this year on a clinical rotation in the SBHC. 
"I was so excited when I heard I was going back to Career," Chumpitaz said. "I hadn't visited since I graduated, and I was so proud of my school when I was there. I want the kids there now to have the same support that I had. As a Career student, I really benefitted from the principal, the teachers, and the superintendent all supporting the clinic."
Chumpitaz vividly remembers attending a job fair at Career with her dad and deciding that nursing sounded pretty great. Her yearbook quote declares an intention to become an NP and she loves talking to current Career students about her nursing journey.
"Looking back, I realized that I have stayed true to myself all these years," Chumpitaz said. "From an early age I knew I wanted to be a nurse practitioner and I aimed high, applied to YSN, and was always persistent in my personal and professional goals."
Student Services Coordinator Triana McCown, MSW, MPA, graduated Career in 2009 on the business track but ultimately found her way to YSN in a staff role after earning a master's in social work. In addition to earning a dozen college credits while still in high school, she also got a job at 14 through the school's Youth Development Training & Resource Center (YDTRC) at The Consultation Center with Yale and savored her early independence.
"The opportunity to have real employment experience in high school made such a difference for me," McCown said. "It helped me focus and contributed to me becoming a well-rounded person."
McCown also fondly recalls Dr. Moriarty Daley and was excited to reconnect at YSN.
"Alison was such a great clinic NP!" McCown said. "The school was in transition at that time, but she has always been one of the most consistent people there." 
Dr. Moriarty Daley reflected on how connecting with teens can come full circle when seeing former Career students arrive at YSN.
"I'm super proud of all of our YSN Career grads and I'm overjoyed they're all here," Dr. Moriarty Daley said. "They recognized their interest in healthcare at an early age and are having a huge impact on their community."