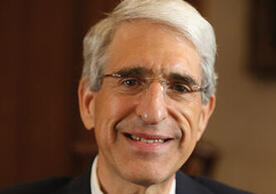 By Peter Salovey '86PhD | Sep/Oct 2023
Yale Alumni Magazine
I write to you in mid-summer—a quieter but exciting time, as we look with anticipation toward the new fall semester. The coming academic year is a truly remarkable one for the Yale School of Nursing (YSN), which celebrates its centennial.
There is a special place in my heart for nursing. My mother, Elaine Salovey, received her education as a registered nurse at Jewish Hospital and Medical Center of Brooklyn. During my childhood in New Providence, New Jersey, and my teenage years in Williamsville, New York, my mother worked at area hospitals. And when the family eventually settled in Southern California, she served as the director of nursing at several geriatric and rehabilitation facilities. Over the years she told me countless stories—about the patients she cared for, the hardworking colleagues she worked with, and the complexities of our medical system. She found her work painstaking but incredibly rewarding, and her experience gave me a deep appreciation for the vital role nurses play within the ecosystem of American health care.
---
This piece originally appeared in the current issue of Yale Alumni Magazine. Read the rest of the article here.