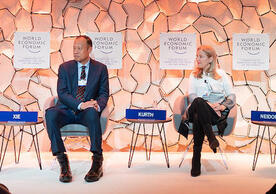 Dean Ann Kurth speaks at the World Economic Forum at Davos on building resilient health systems
The conversation on climate change has accelerated greatly in the last few years. With greater understanding of the timeline and interconnected nature of climate change impacts, Yale School of Nursing Dean and Linda Koch Lorimer Professor of Nursing Ann Kurth '90 MSN, PhD, CNM, MPH, FAAN, has made education about and emphasis on planetary health a priority at YSN. Sitting on a panel at the Davos World Economic Forum, Kurth shared her thoughts on the importance of strategic planning, trust, and education in building resilient health systems in a time of climate change.
The health care industry faces a unique set of concerns when it comes to climate change. As rising temperatures and adverse weather events create acute health concerns, novel diseases (including zoonoses like SARS-CoV-2) and vaccination hesitancy present a new wave of stresses to global health. The World Health Organization (WHO) estimates climate change will cause 250,000 additional deaths between 2030 and 2050 due to malnutrition, heat stress, and malaria. The impacts should no longer be seen in silos, according to Kurth who said on the panel that "[climate change] will affect every disease state because it will affect every health system."
The Last Bulwark
The health industry must face a troublesome truth about its role as a polluter: the health care sector contributes 4.6% of global emissions and about 10% of carbon waste nationally. Earlier this year, the National Health System in England announced it will be working towards net zero carbon dioxide emissions. While ambitious mitigation goals like these are important, health systems, according to Kurth, need to plan to be the "first responder and the last bulwark." Short term goals, she suggested, should include ensuring hospitals in flood areas and coasts move key equipment and IT infrastructure to top floors and considering how provider workforces can respond to crises (health system 
preparedness and adaptation). Outside of the physical buildings of a health system, Kurth added, mobile health care can be used to reach vulnerable populations, and data analytics can bolster preparedness by tracking air pollution and anticipating supply chain disruption.
Spread knowledge, not diseases
Global heating from human greenhouse gas production, deforestation, and humanity's push into other species' econiches already have altered the spread of infectious diseases. The coronaviruses including SARS, MERS and now SARS-CoV-2 have jumped to humans as people encroach on bat and other reservoir species' habitats. For example, when the palm industry cut down the trees in the forests of West Africa, it drove bats, a known carrier of Ebola, from the forest canopy. The bats were forced to roost closer to humans, increasing the likelihood that humans would encounter an infected source. A 2019 study by Nature Communications found that climate stresses and health care delivery conditions could contribute to a 1.75 to 3.2-fold increase in the spread of Ebola in Africa by 2070.
Kurth has stressed the role of education for both patients and providers on how these planetary impacts (greenhouse gas emissions and pollution, deforestation, climate-change induced extreme weather and rising sea levels) can affect health. That education comes at a time when even preventable diseases, such as measles, have seen a 30% increase globally. Last year the WHO identified vaccine hesitancy as a threat to global health and positioned trusted community health workers as key influencers of vaccination decisions
Building a system of trust
Education and functioning health systems only go so far without trust. "Nurses and midwives are the foundation of every health system everywhere," Kurth said, emphasizing the importance of teams including community health workers and activated patients themselves. Trust played a key role in managing the spread of Ebola. "The places that have done well with Ebola is where the community trusted the health system and [they] could leverage [that trust] to change funeral practices to reduce transmission." In America, nurses have held the highest ranking in honesty and ethics for 18 years, according to a Gallup poll. In a time of climate change and emerging infections, nurses stand on the front lines of defending human and planetary health.
Watch the video recording of Dean Ann Kurth at Davos 2020 on the Building Resilient Health Systems panel.
---
Read full magazine here.