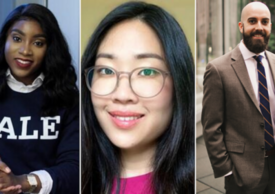 A team of Yale School of Nursing (YSN) faculty, students, and collaborators recently published the results of a five-year NIH-funded randomized controlled trial in SLEEP – the leading journal in the field. 
"We found sustained improvements in insomnia, fatigue, and six-minute walk distance in the treatment group of people with heart failure (HF) who received cognitive behavioral therapy for insomnia compared to an attention control group that had HF self-management education over a fully year of follow-up," said Beatrice Renfield Term Professor of Nursing Dr. Nancy S. Redeker, PhD, RN, FAHA, FAAN. "As we learned in our earlier work, insomnia is quite common among people with HF and has an important influence on daytime symptoms and function. The effects on six-minute walk distance are especially notable."
The full paper, "Cognitive Behavioral Therapy for Insomnia has sustained effects on insomnia, fatigue, and function among people with chronic heart failure and insomnia: The HeartSleep Study," is available online.
Other Nursing faculty contributors include Assistant Professor Dr. Samantha Conley, '16 PhD, RN, FNP-BC, Director of the Clinical Doctor of Nursing Practice (DNP) program Dr. Joanne D. Iennaco, PhD, APRN, PMHNP-BC, Specialty Director of Adult/Gerontology Acute Care Dr. Laura Andrews, PhD, APRN, ACNP-BC, and Senior Research Scientist in Nursing Dr. Sangchoon Jeon, PhD.
The research also included notable contributions from current PhD students Uzoji Nwanaji-Enwerem, FNP-BC, MSN, RN, BSN, Youri Hwang, MSN, APRN, FNP-C, and Stephen Breazeale, MSN, CRNP.  
Redeker also credited Research Assistant Sarah Linsky, Program Manager Meghan O'Connell, and numerous Graduate Entry Prespecialty in Nursing (GEPN) and MSN students for their work over the course of the half-decade project. 
Longtime Dr. Redeker collaborator Dr. Henry Klar Yaggi, MD, MPH, BA of the Yale School of Medicine also played an integral role the study, as did Yale School of Medicine colleague Dr. Daniel Jacoby, MD. Rounding out the list of contributors is Christopher S. Hollenbeak of Pennsylvania State University College of Health and Human Development.