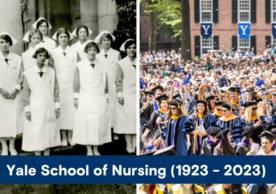 Yale School of Nursing (YSN) embarks on its centennial year (Sept. 2023-May 2024) this month with a new dean as the school begins its next century of service. Azita Emami, PhD, MSN, BSN, RNT, RN, FAAN began her term August 1 and will steer YSN through a slate of programming that reflects on 100 years of history while shaping the future of the nation's most trusted profession.
"We—all of us, every person at YSN—are stewards of a remarkable tradition of care that brings better health to all people," Dean Emami said. "Yale nurses and midwives exemplify the modern profession. The nurses we are educating now will be primary care clinicians, researchers, policy makers, healthcare executives, advocates, educators, and leaders of non-governmental organizations. They will work locally, nationally, and internationally to not only treat illness, but also to promote wellness.
"Our students, alumni, and faculty are creating opportunities that will make healthcare more accessible and eliminate disparities in health outcomes based on race, socioeconomic status, and place of residence. It is a privilege and an honor to lead this thriving institution into its second century of excellence."
A Trailblazing Beginning
As President Salovey wrote in the current issue of Yale Alumni Magazine, "The history of nursing in the US is deeply intertwined with the history of the Yale School of Nursing. Founded in 1923 with funding from the Rockefeller Foundation, YSN was the first school within a university to offer nurses a full educational experience rather than an apprenticeship program.
"Annie Warburton Goodrich, the chief nursing inspector for US Army hospitals during World War I and the organizing dean of the US Army School of Nursing, was appointed as the first dean of YSN and the first woman ever to serve as a dean at Yale."
Having been instrumental at the school's inception, the Rockefeller Foundation makes a welcome return to the YSN story with a guest appearance by Foundation President Rajiv Shah at the kickoff event on September 21.
Shah will engage in an armchair discussion with Dean Emami and President Salovey (in the final year of his Yale presidency) on the myriad ways in which health and climate are inextricably linked.
100 Years of History
The YSN Centennial offers an opportunity to revisit a century of YSN firsts, significant community members, and milestone anniversaries. Among them:
Elouise Collier Duncan graduated with one of the war classes (designated as *W in the class year) in the Cadet Nurse Corps in 1946, the school's first Black/African-American graduate. An obstetrical nurse, she later became an educator herself at Howard University in Washington, DC. In 1980, she was honored by the school with a Distinguished Alumni Award.
 
Marilynn "Lynn" Malerba '15 DNP made history in 2022 as the first Indigenous person/Native American to serve as Treasurer of the United States. Her signature is now printed on $1 and $5 bills, the first inked by a Tribal leader and Indigenous/Native American woman. Appearing alongside the personal script of Secretary of the Treasury Janet Yellen '71 PhD, this marks the first time that two women have etched their names on American currency.
 
Florence Schorske Wald '41 MN, '56 MSN, RN, MS, FAAN is included in the National Women's Hall of Fame. She is recognized as an American Academy of Nursing Living Legend and was awarded a Yale honorary degree in 1995. She led the school as its fourth dean (1959-1966) and is credited with bringing the hospice movement to the United States, establishing the first hospice office in 1974 at Albertus Magnus College in New Haven. YSN's centennial year includes the 50th anniversary of hospice care in the United States in 2024.
This year also marks the 10th anniversary of the school's move to Yale West Campus, and the 20th anniversary of the beloved Creative Writing Awards. 
Dean Emami adds, "YSN is also aware that along with all the pioneering accomplishments, the school's history includes racial injustice that the school has tried to interrogate over the course of many years. That work has accelerated and YSN is entering the new century with a firm determination to truthfully reckon with the harms caused. As a school, we will continue the restorative work to ensure we act on our values built on diversity, equity, inclusion, and belonging—not only as the foundation for the YSN community but in all our programmatic deliveries."
The YSN Office of Diversity, Equity, Inclusion and Belonging will take the lead in providing direction, guidance, and inspiration for the efforts of he YSN faculty, staff, students, and alumni as they continue acknowledging the past while building the future on a foundation of equity.
Fall Centennial Events
YSN Centennial Events during the fall semester include programs for faculty, students, staff, and alumni. Events will continue to be added throughout the September 2023-May 2024 celebration year.
In a nod to the challenges of the Covid-19 pandemic, the 2023 Distinguished Alumni Award and Decade Award ceremony will also include honorees selected in 2020, 2021, and 2022, who could not celebrate safely together in person at the time. View a complete list of past winners.
In an illustration of the depth and breadth of subject matter expertise at YSN, a series of faculty lectures begins in October with Associate Professor S. Raquel Ramos, PhD, MBA, MSN, FNP, FNYAM, FAHA on "Cardiovascular Health Equity in Sexual Minority Men of Color with HIV."
Other featured faculty speakers include Joan Combellick '91 MSN, PhD, MPH, CNM, FACNM, Julie Womack '94 MSN, '08 PhD, CNM, FNP-BC, Shelli Feder '10 MSN, '17 PhD, APRN, FNP-BC, ACHPN, Deena Kelly Costa, PhD, RN, FAAN, and Zhao Ni, PhD, BMedSci, RN.
The faculty lecture series runs through February 2024.
All programs will be added to the Centennial Celebration website as details become available, including spring semester events after the new year.
Exhibition on View Into January 2024
"An exhibition celebrating Yale School of Nursing Centennial (1923-2023)" is currently on view at the Cushing Rotunda of the Harvey Cushing/John Hay Whitney Medical Library, located at 333 Cedar Street in New Haven.
Highlights include the assessment that helped found YSN as a completely new model of nursing education; the immense growth and change across the student population and faculty; the innovative methods of pedagogy and research inside and outside the learning environment; a long tradition of community and global service; and a glimpse of the school today.
The exhibit is curated by Janene Batten, Ed.D., MLS, YSN Reference Librarian; Courtney Brombosz, MLS, Research and Education Librarian for the Harvey Cushing/John Hay Whitney Medical Library; and Melissa Grafe, Ph.D., John R. Bumstead Librarian for Medical History and Head of the Medical Historical Library.
The exhibition concludes on January 14, 2024.
For the Media
For media inquiries about the YSN Centennial, please contact Associate Director of Communications Lauren Langford.