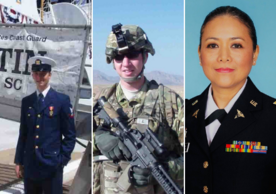 On Veterans Day the Yale Alumni Association (YAA) welcomed three Yale School of Nursing (YSN) veterans to its ongoing "Careers, Life, and Yale" series. Tim McGehee '22 MSN, Nick Smith '22 MSN, and Dr. Lydia Cristobal '16 DNP all reflected on their journey to nursing through military service and shared their career plans for life beyond the school.
Tim McGehee '22 MSN
McGehee grew up in Milford, CT and spent two years at the US Merchant Marine Academy before academic difficulties prompted him to leave school and enlist in the Coast Guard at age 19. He worked as a mechanic and started thinking about a career in healthcare.
"As a mechanic, it retrained my brain to think a certain way: cause and effect. Align a system, fix a pump, troubleshoot an oil leak, and I got into the science. I always thought of myself as an operator, not someone who wants to sit behind a desk, and I saw healthcare as a way I could do that."
After four years seeing the world and sailing with the Coast Guard, McGehee graduated from the University of Connecticut with a degree in allied health science. 
He worked as a Certified Nursing Assistant (CNA) in a nursing home for one year, forming strong bonds with the residents.
"I grew great relationships with the people I took care of," McGehee said. "The relationships that I was able to build with them drew me into nursing and drew me into geriatrics."
After getting married and having his first child, McGehee felt pressure to make more than minimum wage and sought graduate school opportunities. 
"My bad grades [in the Merchant Marines] came back to haunt me, even though at UConn I did really well," McGehee said. "I got rejected by a bunch of schools and was super disappointed. I didn't know what I was going to do. I wrote a letter saying 'Please take a hard look at me. This cumulative GPA doesn't represent who I am as a student.' Yale was the only school willing to do that."  
McGehee completed the Interprofessional Longitudinal Clinical Experience (ILCE) program, which pairs nursing students with Yale School of Medicine students and Physician Associates to function effectively in the clinical environment. Now in this third year at YSN, McGehee is currently on a clinical rotation at Veterans Affairs (VA).
"I'm definitely interested in working at the VA and working with veterans," he said. "I have a lot of respect of all veterans, and I'm particularly fascinated by everyone from the Vietnam years. I would love to work at the VA someday."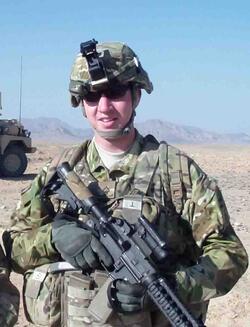 Nick Smith '22 MSN
Smith joined the US Army as a medic directly out of high school. 
"I was a pretty good student in high school and had applied to a number of institutions but a lot of them cost way too much money," he said. "I don't come from a family with an enormous amount of means."
But he did have an adventurous side and compared his accelerated Army medic training to the intensive Graduate Entry Prespecialty in Nursing (GEPN) course of study. After four weeks he passed an EMT basic course and then embarked on an additional 12 weeks of what is often referred to as Whiskey School because combat medics are designated "68 Whiskey." At the end of four months, Smith was ready to serve as a line medic for a platoon.
In December 2012 Smith was deployed to Afghanistan for one year, where he utilized his medical skills to treat American and Afghan soldiers, as well as Afghan civilians, during combat trauma scenarios. 
Smith then enrolled in Columbia University as an undergraduate, thinking he'd pursue medicine but took a left turn and fell in love with biological anthropology, the study of human and non-human primate biological evolution, particularly skeletal analysis. He conducted research in Kenya and Illinois but felt something was missing.
"When I was finishing school, I enjoyed it and found it very interesting but didn't think the research was super life changing on a day-to-day basis," Smith said. After consulting friend and YSN alum Jonathan Harper '21 MSN, he knew he wanted to do something more meaningful. Harper encouraged him to check out YSN. "I came up for a weekend and visited and that was kind of the end of it," Smith said. No looking back.
Smith also completed the ILCE program and conducted a rotation at the VA, both of which he considers to be valuable experiences. Rather than maintaining formal ties to the military through veterans' groups or working with the VA, Smith has preferred to keep in touch with his Army network of medics and colleagues.
Dr. Lydia Cristobal '16 DNP
Dr. Cristobal '16 DNP began her career as a licensed practical nurse who was then recruited by the Army.
"I've always been an adventurous girl!" she said. She was definitely interested in an Army career, but her then-husband was not supportive. After their divorce, she told herself the time was right for basic training: "He can't stop me now! I need to heal my broken heart and be away from everybody." 
When Dr. Cristobal became a sergeant, the Army decided to designate nurses as medics. After the war started in Iraq, her unit was activated to serve at Walter Reed National Military Medical Center. As a nurse on a cardiothoracic surgery unit, most of her patients had gunshot wounds to the chest.
"It was a turning point in my life," Dr. Cristobal said. "What do I do as a mere practical nurse? I couldn't do anything. I absorbed their pain; I was a sponge." But she knew she wanted to make a more systematic impact, so she went back to school and earned her Doctor of Nursing Practice (DNP) at YSN. She received her commission, earned her credentials, and got to work.
Part of Dr. Cristobal's capstone project at YSN centered on transforming the current model of extended-care facilities for veterans into greenhouse homes that take a holistic approach to care and only house six to 10 people. She continues that work today.
Dr. Cristobal currently manages two transitional care units in CarePoint Health hospitals as an administrator. She founded the Yale Veterans Association (YVA) Houston Chapter, and currently is regional chapter development chair for the YVA in New Jersey, a YVA board member, and YAA Board of Governors member. 
"I think that being a veteran of Operation Enduring Freedom changed my life and changed me into a better leader," she said. "I couldn't be who I am now had I not joined the Army. It definitely made me a tougher person, a better person."