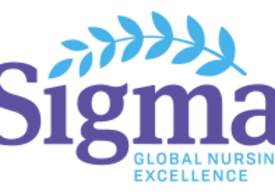 Yale School of Nursing (YSN) gathered to celebrate the newest class of the Delta Mu chapter of the Sigma Theta Tau International Society of Nursing on May 19.
In her remarks, Dean Ann Kurth '90 MSN, PhD, CNM, MPH, FAAN, briefly described three challenges facing the inductees: the climate crisis, the health workforce crisis, and the equity imperative. In part, her comments highlighted the trust communities place in their nurses.
"There is a reason that nurses are the most trusted profession for two decades running. It is because we care about our communities – because we are focused on understanding what makes people healthy or puts them at risk and are determined to address those issues. It is because our very definition of nursing requires us to be advocates," Dean Kurth said.
Dorothy Sexton Mentorship Award
Pediatric Nurse Practitioner Specialty Director Dr. Alison Moriarty Daley '94 MSN, PhD, APRN, PPCNP-BC, FAAN was presented with the Dorothy Sexton Mentorship Award, an honor established in 2004. Honorees are noted for excellence across five competencies: self-knowledge, strategic vision, risk-taking and creativity, interpersonal and communication effectiveness, and inspiration.
2022 Inductees
Many congratulations to the newest class! They are:
Tess M. Anderson
Hibah Mahwish Askari
Andrew Mark Baney
Courtney F. Barlotta
William Bruno
Grace Buchloh
Cheryl Diane Canty
Marissa Chantorn
Dawei Chen
Cinthya M. Chumpitaz
Jenny Han Chung
Joanna Ciafone
Elizabeth Fall Curtis
Mary-Ann Cyr
Carlie Marie Davis
Helen E. Day
Michelle Elise Dickey
Kirsten Dooley
Rachel Elizabeth Drake
Olivia Kathryn Dumont
Samantha Joyce Duplantis
Kristine Colburn Edwards
Ashleigh Charde Evans
Taylor Rose Evans
Molly Flavin Flynn
Olivia Footer
Stacey Elise Frizzell
Christopher David Fusco
Kayla Mae Green
Lauren Greenberg
Candace Autumn Gregg
Joseph Osei Gyasi
Amanda Hettema
Emily Anne Hyde
Alyssa Jang
Crystal LaChea Johnson
Shannon Rose Jones
Yasaman Kazemi
Jack Woodrow Keller
Grace Sung Un Kim
Ameya Krishnan
Vanessa Helena Landegger
Mariah Frances Latzka
Dana Lefland
Kathleen Marie Lessard
Margaret Brooks Levene
Kendell M. Lincoln
Sarah Logan
Christina Nora Maroone
Daniel Modlinger
Helen Reid Montie
Renata Ndahayo
Shayla Bernard Partridge
Harriet Perdikaris
Sajni Savitri Persad
Phithao Kathy Pham
Jordan Fay Quintin
Erica J. Rayack
Kaitlyn Marie Roberts
Devin Shaheen
Melinda Maria Silva Grant
Christina Gist Stoler
Patrick Donald Thurber
Gayelan Tietje-Ulrich
Ada Jasmine Udaya
Lindsey Watters
Elizabeth Joy Weiss
Christian Paul Whitsel
Geena Elizabeth Whittredge
Dylan Ross Williams
Roxanne Rose Bellows Wright
Carol D Yam
Disa Yoo
Annie Yu
Nathan Yuen
Yan Zhan