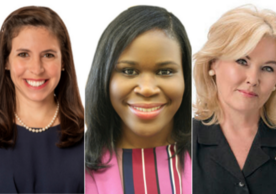 Nursing can truly become a lifelong pursuit. As subject matter experts, these clinicians and researchers deepen their skills across years and decades, consistently finding a new thread to pull or developing a new intervention to improve patient outcomes. Profiled here are three faculty members at Yale School of Nursing (YSN) progressing through their research careers, sharing the journey that brought them this far and looking ahead to what comes next.
Shelli Feder, '10 MSN, '17 PhD, APRN, FNP-C, ACHPN 
After graduating from the Family Nurse Practitioner program at YSN in 2010, Dr. Feder worked as a NP hospitalist in Washington, DC and partnered closely with the palliative care team to treat patients with acute and chronic conditions.  
Dr. Feder noticed that patients with nonmalignant conditions like heart failure and Chronic Obstructive Pulmonary Disease (COPD) clearly exhibited many of the symptoms and communication needs addressed by palliative care, but often those patients did not have access to palliative care services.  
Dr. Feder returned to YSN for her PhD, conducting dissertation research on factors associated with palliative care referral among hospitalized patients with heart failure with Dr. Nancy Schmieder Redeker PhD, RN, FAHA, FAAN as her primary mentor. She completed a post-doctoral fellowship with the National Clinician Scholars Program at Yale.  
Dr. Feder's current research is funded through the Yale Center for Implementation Science and the National Heart, Lung, and Blood Institute. Through her research, Dr. Feder seeks to evaluate models of palliative care delivery for patients with heart failure within the Department of Veterans Affairs. 
"I think there's a misperception that palliative care is for people at the immediate end of life, but that is not true," Dr. Feder said. "As clinicians and researchers, we try to reframe it as a service for any patient with a serious, life-limiting, illness."
During this initial stage of the grant, Dr. Feder is analyzing pertinent data of over 300,000 veterans with heart failure. Next, she will conduct interviews with clinicians at facilities that have a high uptake of palliative care, high care-quality, and excel improving health outcomes among patients with heart failure. Dr. Feder will also interview patients and family caregivers to understand their preferences for palliative care delivery. She will explore hospital utilization, access to hospice care, symptom and pain management, and the family's view of end-of-life care, among other factors. The ultimate aim of this work is to inform the design and implementation of palliative care interventions that improve the quality of life of patients with heart failure and that are scalable and transferrable across healthcare systems. 
"If we can learn from those hospitals that are delivering high-quality care and narrow in on what those strategies are, then we can replicate that in other medical centers," Dr. Feder said.  
Tamika Julien, DNP, CNM, WHNP-BC, CLC 
Dr. Julien's clinical experience includes nearly a decade working as a women's health nurse practitioner in a federally qualified community health center and a certified nurse midwife for the past four years. As a certified lactation counselor, her doctoral research focused on improving exclusive breastfeeding rates in the immediate postpartum period.  
She has also worked extensively with adolescents, providing services well beyond women's health care. In addition to discussing reproductive health and family planning, Dr. Julien enjoys listening to their career goals and empowering them. Dr. Julien believes it is important to establish rapport and trust with patients, reassuring them that they could safely confide in her and ask questions without fear of pressure or judgment.  
Dr. Julien arrived at YSN in January 2020, just before COVID-19 closed the school for the rest of the year. She is working towards continuing her research to promote and increase exclusive breastfeeding. Dr. Julien also joined Dr. Joan Combellick '91 MSN, PhD, MPH, CNM to research how COVID impacted childbearing individuals who gave birth during the pandemic.  
"We saw how the pandemic underscored the importance of the midwifery model of care," Dr. Julien said. "Childbearing individuals wanted to be heard, have their needs valued, and appreciated shared decision making." 
We had childbearing individuals who changed their birth plans in the middle of their pregnancy to seek midwifery care with interest in a home birth or birth center because of COVID-19 concerns." 
At this stage in her career, Dr. Julien feels empowered to create greater access for the next generation of practitioners, once again serving as a trusted confidant in addition to providing highly skilled care. She recently submitted a proposal to pilot a mentorship program for midwifery and women's health students, faculty, and alumni of color.  
"Research shows students of color struggle with loneliness, isolation, discrimination, and microaggressions within predominantly white institutions, and it is important that we provide additional support to these students," Dr. Julien said. "It's integral that these students have a safe place to speak and be heard, and to foster community and belonging. As a faculty of color, I am in an opportune position to champion change and support mentorship." 
Joan Kearney, PhD, APRN, FAAN
Dr. Kearney is an Associate Professor of Nursing whose research spans the intersections of attachment, trauma, and coping in high-risk attachment/caregiving systems across the psychiatric and pediatric spectrum.  
Her research career has been grounded by her doctoral training in developmental psychology. "That set the trajectory for me." Dr. Kearney's work has focused on high-risk development, developmental psychopathology, and attachment.  
Prior to her doctoral studies, she received her master's degree in child psychiatric nursing, which has played an important part in steering her professional course and informed her research. Even in that early stage, Dr. Kearney was interested in maternal child connections and their developmental impact. She conducted her thesis on maternal stress during pregnancy, using the Brazelton Neonatal Behavioral Assessment Scale to measure infant behavior in the nursery. She discovered that maternal stress was associated with neonatal behavior on certain dimensions.  
Examples of Dr. Kearney's work include research and publications on attachment processes and parental decision-making in pediatric end of life context at Columbia University, work with the GEMS organization in New York to examine the relational nature of trauma recovery in young sexually exploited and trafficked females, work with mothers and children exposed to domestic violence in clinical settings in New York and Connecticut where she also studied biobehavioral markers in violence exposed mothers.  
In addition, Dr. Kearney is a member of the Professional Advisory Board of Momcology, a national online community of parents whose children have been diagnosed with cancer where she has also conducted research to examine maternal traumatic stress and symptoms.  
Her career includes healthcare administration roles in nursing and psychiatry as well as long experience as an educator and mentor across various levels and all mental health disciplines. She is currently discussing future strategies for child psychiatric nursing preparation with her fellow leaders across the country as needs grow.  
Dr. Kearney is Chair of YSN's Doctor of Nursing Practice (DNP) Programs, which include the Health Care Leadership, Systems, and Policy Program and the newly launched Clinical DNP Program. Mary Ann Camilleri, JD, BSN, RN, FACHE, steers the Leadership Program and Joanne DeSanto Iennaco, '05 MPhil, '09 PhD, APRN, PMHNP-BC leads the Clinical Program.  
In speaking of the Leadership Program, she highlights the excellent leadership and policy arms of the program and is proud of the recently re-designed executive arm for systems administrators. She is equally proud of the new Clinical DNP program which emphasizes clinical innovation. She describes them as world class programs addressing new and emerging healthcare practice and systems methods and models. 
Dr. Kearney is already excited about her next steps. 
"I think learning is part of existing, a part of living," she said. "There is always more to learn." 
---
this article and many more can be found in the newest issue of yale nursing matters, read more.