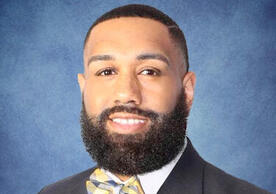 After a nationwide search and series of interviews including input from faculty, students, and staff, Yale School of Nursing (YSN) welcomed new Director for the Office of Diversity, Equity, and Inclusion (DEI) Maurice Nelson, MEd, CDE, in April, and his inbox has been full ever since. Nelson arrives from Georgia Southern University, where he has facilitated more than 200 DEI-related training workshops. He is a Certified Diversity Executive (CDE) with extensive higher education DEI experience.
Nelson identifies as Black and Mexican, and his ethnicities and other identities cultivate his passion for advocacy of underrepresented people. He lives by the concept of Sankofa, which reaches back to use the past as a guide to future progress. Nelson has worked through myriad academic, civic, and social justice organizations as an inclusion change agent, and he is committed to strengthening his competencies and ability to advocate for the success of others, now at YSN.
Yale Nursing Matters (YNM): Welcome to Connecticut! What most excites you about joining the YSN community? 
Maurice Nelson: I am genuinely encouraged and excited about the appetite for DEI leadership that I have assessed thus far. I get the sense that folx are eager to learn, develop, and grow for the purpose of making YSN and the larger Yale community a better place, especially for those who may be underrepresented, underserved, and under resourced.  
The work of a DEI professional goes much further when engaging with a community of people who are ready and willing, and I get the sense that YSN is willing and ready. I am excited about the opportunity to drive strategy toward meaningful change that will truly help us achieve the school's mission of better health for all people.   
Also, I have never lived north of Georgia – so while I am a proud Savannah, GA native, I am excited to experience living in a different area. Coat shopping will be fun! 
YNM: What inspires you to work with students? Are there elements that you find particularly enriching or satisfying? 
Maurice Nelson: I draw my inspiration from my experiences as a first-generation and non-traditional student at Savannah State University. I remember the support that I needed and the village that it took to help me overcome challenges, realize my abilities, and cultivate success for myself.  
As an ambitious undergraduate activist, it became clear that activism would take a different form for me. As an undergraduate student at a Historically Black College/University (HBCU), I realized the true breadth of diversity that is compounded by intersectionality, and I understood that my passion and purpose are to advocate for holistically supportive higher education environments for all students.  
I am humbled and rejuvenated when students share stories about how DEI support enriches their experiences and significantly contributes to their sense-of-belonging, progression, graduation (with a plan), and overall success. 
I am personally enriched when there is quantitative and qualitative support that indicates students, faculty, and staff feel supported by the work of the DEI team. To that end, I find it important to note that in order to adequately support students, I must also provide robust support to the faculty and staff who serve our students. The scope of the YSN Office of Diversity, Equity, and Inclusion is without many limits.  
YNM: In addition to your DEI work with YSN, you are also pursuing a Doctor of Education at Georgia Southern. Could you describe your research interests? 
Maurice Nelson: "Work full-time and pursue a doctoral degree," they said. "It's a great idea," they said. In all seriousness, I consider myself a lifelong learner. One of my mentors, Shed Dawson, Jr., instilled in me the idea that "You're never grown; you're always growing." My parents have always taught similar values. Therefore, expanding my knowledge through doctoral research seamlessly aligns with my raison d'etre.  
I am not in the dissertation phase just yet, but my research interest has been consistent for quite some time. I am interested in delving into the experiences of Black people who identify as men who attend Historically White Institutions (HWI). My research interest also notes a seemingly nuanced, but important difference between Predominantly White Institutions and HWIs. My belief is that by nature of their historical structures, HWIs require a different look to understand how systems are imbedded into every fabric of the institution. It is very possible that the scope of my interest may adjust as I get closer to dissertation, but supporting underrepresented people at HWIs is my overall research interest.    
YNM: How have you been inspired by nurses?
Maurice Nelson: I've had the honor of being friends and family to several nurses and healthcare providers. I've always been inspired by the tenacity, altruism, and work ethic exhibited by healthcare providers. I believe that the aforementioned relationships profoundly impacted my decision to focus my DEI leadership in a healthcare setting.  
Additionally, I have worked with some amazing public health professionals, and I believe that public health is rooted in social justice. The COVID-19 pandemic further exposed healthcare disparities in many ways, and I believe it is my responsibility to help a global leader in nursing research and education like YSN become a global model for diversity, equity, inclusion, and belonging. 
YNM: Do you have any recommendations for resources that students, staff, and faculty can use to advance their own DEI knowledge?  
Maurice Nelson: A part of my initial strategy is to do just that: share reliable DEI resources and recommendations. I am working to curate some items that I will send out to student, faculty, and staff. I plan for this to be an ongoing initiative, which allows for people to engage with information, pursue best practices, and also lean on me as a resource. DEI is very broad, so if there are requests for specific topics, I encourage folx to reach out to me so that I can make more specific recommendations.  
YNM: If there is one misconception you could clear up about DEI, what would it be? 
Maurice Nelson: This is no magic potion to fix DEI-related issues. In my experiences, I've found that many people expect DEI leaders to have instant answers that will magically solve any DEI problem. As much as I would love for that to be true, it just simply is not the case. Notwithstanding, I believe that good DEI leaders understand that our roles are not simply to always put out fires. Instead, our roles are to drive strategy and help shape a culture and expectation that mitigates the incendiary environment that causes those proverbial fires.  
I'd like to offer another important misconception: growing in DEI does not mean we won't make mistakes. No one is perfect, not even DEI leaders. Therefore, we have to become comfortable with understanding that it will be uncomfortable at times, but it is in discomfort that we learn and grow. My hope is to build rapport and trust with YSN so that people are comfortable and willing to push through discomfort to develop robust diversity competencies.  
YNM: Are there any closing thoughts you would like to share? 
Maurice Nelson: One of my favorite quotes is the aphorism "people will forget what you said, people will forget what you did, but they will never forget how you made them feel." My sincerest desire is to foster an environment where every person feels they belong, and our students will move forward as healthcare providers who cultivate the same for the communities they serve.  
---
this article and many more can be found in the newest issue of yale nursing matters, read more.