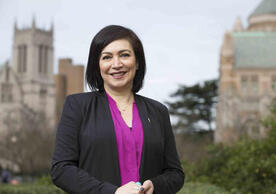 By Lisa Reisman '89MA | Sep/Oct 2023
Yale Alumni Magazine
Perhaps it's fitting that the 100th anniversary of the Yale School of Nursing this year coincides with the recent appointment of a woman lauded for her "history of visionary leadership." Those words, from interim dean Holly Powell Kennedy, describe Azita Emami, who, as executive dean of the University of Washington Nursing School, has overseen a nursing institution consistently recognized as among the top in the country, according to U.S. News & World Report. 
That's in part due to Emami's efforts to promote inclusion in the school's culture and curriculum, as well as her focus on health equity. "In nursing, our responsibility is to care for people—all people, including those in marginalized communities," says Emami, who earned her RN and PhD in medical sciences from the Karolinska Institutet in Stockholm. "A commitment to diversity, equity, and inclusion starts with a curriculum and programs that reflect those values."
---
This piece originally appeared in the current issue of Yale Alumni Magazine. Read the rest of the article here.