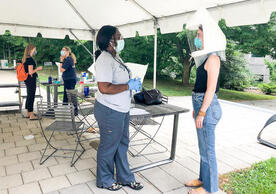 After months of applying, waiting, and preparing, new Nursing students launched the next phase of their careers on August 16 and 18 with their first piece of clinical equipment: a well-fitted N95 mask.
The process starts with a student wearing one of three sizes of mask and then donning a plastic, cylindrical hood. A member of the Simulation faculty injects a highly concentrated saccharine spray into the small chamber, and asks the student to perform a series of actions to test the fit. 
They recite "The Rainbow Passage," a text designed to move facial muscles through common speech patterns. They smile and frown and walk around a bit, constantly waiting to taste sugar. If the spray has penetrated the N95, the mask doesn't fit correctly, and it needs to be swapped for another size or other adjustments might be made. But if the steps are completed without a sugar rush, success is sweet. 
The new class also collected nursing kits filled with the gear they'll need for simulation labs this semester: from surgical gloves and a blood pressure cuff to a needle packet and suction catheter kit. 
A Variety of Professional Experience
The incoming Graduate Entry Prespecialty in Nursing (GEPN) Program students aren't required to have a healthcare background, although many do.
Adult Gerontology Primary Care specialty student Kyle Durand has been working in healthcare for the past five years as an EMT and said becoming a Bulldog was not a tough decision.
"I knew I wanted to become an NP, and this is the best program in Connecticut," Durand said. "Yale was an easy choice."
Durand is a veteran of the N95 process, but this was the first fitting for Psychiatric-Mental Health specialty student Vanessa Acosta. 
"I heard about the program from an alum and they had nothing but excellent things to say about it," Acosta said. "I'm really looking forward to working with all the amazing faculty."
Samantha Nebiolo also had her first N95 fitting on West Campus. She has been working as a doula for four years and said the COVID-19 pandemic really changed her work, prompting her to apply to YSN and pursue her goal of becoming a midwife. 
Midwifery and Women's Health specialty student Vanessa Landegger, MPH, is transitioning from a teaching role over the past decade into being a student herself this year. 
Fellow FNP student Michelle Dickey shared that her mother's oncologist is a YSN FNP alum who was enthusiastic about how well the program prepared her for a nursing career. 
Meghan Wales, a Psychiatric Mental Health specialty student, studied at Boston Children's Hospital with a program alum who inspired her to apply to YSN.
Sabrina Caramando arrives as an Adult Gerontology Primary Care student who always knew she wanted to go into healthcare. She was pre-med for a while in undergrad, but ultimately chose a more naturopathic route that was less centered on Western medicine. She is now looking forward to nursing as a patient-centered care option.
New students were greeted by a welcoming committee that included Associate Dean of Student Life and Belonging Saveena Dahl, M.A.; Associate Director of Admissions and Financial Aid Wesley Revangil, MBA; and Student Services Coordinator Triana McCown, who handed out Yale blue welcome bags, iPads, ID cards, lanyards, lunch totes and YSN tumblers.
Orientation for GEPN, MSN, and post master's certificate (PMC) students started August 23 and for Doctor of Nursing Practice (DNP) students on August 25. Fall semester classes begin on campus and in person on August 30.