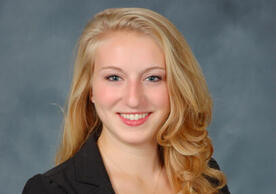 Students at Yale School of Nursing (YSN) who enter as RNs move directly into a specialty with a curriculum that focuses on clinical competence and nursing scholarship. This year's class of MSN-entry students brings a depth and breadth of experience to the classroom and their classmates. 
One member of that cohort is adult gerontology student Valerie Williams, BSN, RN, CCRN who got her start in health care volunteering at the Smilow Cancer Center.
"I got to be a fly on the wall there and see all the various roles of the healthcare team," Williams said. "The nurse role resonated with me the most. They spent the most time at the patient's bedside and acted as their main advocates and confidants."
After about two years as an RN, Williams decided that the time was right to pursue becoming an advanced practice registered nurse (APRN). 
"At one point when I was studying for an exam to become a critical care RN, it made me realize how much I missed school and how much I really like learning. There's always something you can get better at. I love that aspect of nursing," Williams said. 
Williams most recently worked at the Hospital for Special Surgery (HSS), an elective surgery facility in New York City. When all elective surgeries were cancelled in the spring due to COVID-19, the floors were eerily quiet
for a few days. Then HSS started accepting emergency admissions to help ease the burden on nearby hospitals that were overwhelmed with pandemic cases. But that state did not last long. The eye of the hurricane passed, and then storm hit with full force.
Suddenly HSS was converting empty ORs into fully occupied ICU beds, and Williams' unit was chosen to staff the ICU. Rather than helping knee or hip replacement patients recover from their voluntary procedures as she usually did, Williams had effectively become an ICU nurse overnight, working with the sickest patients she had ever seen.
"We didn't have widespread testing for providers at that time," Williams said. "You had to be pretty sick to get a test. We didn't know if we were infected, or if we were bringing it home to our neighbors, our families, the doormen in our buildings. It was very isolating," she said. "But at the same time, we were very proud to be helping."
Williams described an environment of highs and lows.
"Someone would get better, and you'd feel good. And the opposite was true, too," she said. "The patients' families couldn't be there with them. Nurses were the ones holding up the iPad so they could virtually visit their very sick family members."
Williams' strength as an empath is also motivating her to work toward Spanish language proficiency to care for those patients as adeptly as any English speaker. And Williams believes that YSN is the place that will help her become the best nurse she can be.
"Making the transition from an RN to an APRN means that now you're one of the primary decisionmakers," she said. "I owe it to my future patients to have the best education I can possibly get, and that's why I wanted to come to YSN."
For more information about the MSN-entry program, visit the Academics tab.
---
this article and many more can be found in the fall 2020 issue of yale nursing matters, read more.