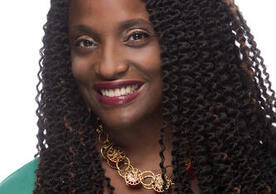 Fredericka "Freddie" Grant has been a member of the Yale School of Nursing (YSN) community for two decades, first as a member of Academic Affairs and now as the Senior Administrative Assistant for Financial Aid. Freddie provides information regarding all aspects of student services including financial aid, course and room scheduling, record keeping, enrollment verification, and assistance with nursing board and state licensure paperwork. 
She received a B.S. in Human Services from the University of Bridgeport and holds a master's degree in Clinical Counseling from Post University. She recently finished a Post Graduate Certificate in Mental Health in Counseling, also from Post University, focusing on student advising, career counseling, in-depth personality assessments and functional analysis. She has always been interested in the underlying factors and motivators behind the behaviors and actions of others.
In addition to being a staff member at YSN, you're also a clinician yourself, a behavioral therapist. Tell us a little bit about that work.
I've held therapeutic positions with several nonprofit agencies affiliated with the State of Connecticut in the Department of Children and Families.
I started mentoring in 2008, supervising parental visits for children who were in the care of a parent or who were in foster care. I provided therapeutic support when working in a shelter for women and children and facilitated a group — Lessons in Female Empowerment (L.I.F.E) — for adolescents from the ages of 12 to 18. I began doing in-home behavior modification therapy in 2011. I started with one child in the family but since mental health and behaviors affect all members in the home services would then be extended to their siblings and parents as well. 
There are some unique rewards that come from doing this work. I remember working with one family where the oldest child did not engage at all, she would just sit off by herself. And now she's a freshman in college, living on her own and doing so well.   
I was raised in East Rock neighborhood of New Haven, and I still reside in the area, so it's common to see some of my former patients occasionally and I'm always here for them.   
Do you have a favorite project that you've contributed to while at YSN?
The Commencements always stand out. It's one thing to see our students when they arrive at the start of their GEPN year and then to see how much they grow and progress by the time they graduate. As they gain more confidence and knowledge they just move differently around the school. 
And the relationships that we've built are special to me; I'm very close with a few graduates and attend personal events.
What excites you about being a member of the Yale Nursing community?
I've made a lot of amazing friends here and met incredible people over the years. I was new to the community but was warmly welcomed and supported by everyone here and have been encouraged and empowered by some amazing people individuals in this building over the years.
Nursing impresses me. YSN faculty and students have provided healthcare services for me and other family members. I have visited a provider in a healthcare setting and when there's a YSN student or faculty member there, that feels good. I know I'm in good hands. 
Staff Series
This is the latest in an occasional series of YSN staff profiles, and the conversation has been condensed and lightly edited for clarity. Read our earlier pieces about how Wesley Revangil engages students on financial aid,Ekaterina Ginzburg drives teaching and learning innovation, Jeanetsey Prates anticipates faculty needs, Janene Batten partners with faculty and students in the nursing mission, Eddie Quiles thrives in ODEI, and Caitlin Blacksmith delves into data. Check back soon to meet more YSN staff.