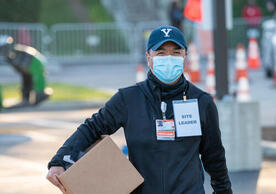 Congratulations to Leadership DNP student Ron Yolo, who recently received the Population Health Mission Award in recognition of his exceptional humanity, dedication, and kindness at a mass vaccination clinic treating vulnerable and underserved communities in Los Angeles county, California. 
Over the course of five days at the LA Galaxy's Dignity Health Sports Park in Carson, California, 20,248 first doses of the COVID-19 vaccine were administered. Counted among Yolo's patients was Lula Davis-Homes, mayor of Carson.
"It was gratifying to see how elated individuals were when they finally received the COVID-19 vaccine," Yolo said. "Remarks such as how the patient can finally see their loved ones, hug their grandparents, and play with their grandchildren were amazing to hear from the vaccine recipients."
Yolo also served as an integral part of a leadership team that galvanized an impressive force of nursing student volunteers. Yolo's work ensured that the more than 130 nursing students from seven local schools assisting in the clinic every day knew what to do and where to go. 
The nursing students represented seven nearby schools: ​Mount Saint Mary's University, University of San Francisco, Pacific College, West Coast University, Concorde Career College, Pasadena Community College, and Inland Career Education Center.
"The collegiality and teamwork from everyone involved in the vaccine clinic was extremely rewarding," Yolo said. "We were all there for one purpose: to vaccinate our community. And we did it as a team with plenty of smiles and a ton of human kindness." 
In addition to studying at Yale School of Nursing (YSN), Yolo is currently the Chief Nursing Officer at Glendale Memorial Hospital in Glendale, California.
"Ron is an outstanding example of what nursing leaders can achieve when they holistically examine the intricacies of health care leadership, systems, and policy," said Leadership DNP Program Director Mary Ann Camilerri, JD, BSN, RN, FACHE. "These are clinicians who bring a scope and breadth of knowledge to their roles in administration and can serve their communities in an even more nuanced way."
The award was presented by National Population Health Collaborative at CommonSpirit Health, the largest not-for-profit health system in the United States.