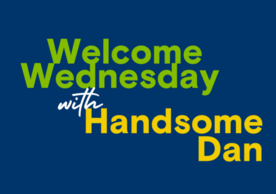 Approximately one million adorable wrinkles and enthusiastic tail wagging heralded the start of Yale School of Nursing (YSN)'s most recent Welcome Wednesday event: a cookie break meet and greet with university mascot Handsome Dan XIX (also known as Kingman).
Kingman's cameo is part of a larger initiative to help ease the transition for YSN community members returning to campus. The first week of August featured an outdoor scavenger hunt around the building, prompting participants to chase butterflies and locate the nearest West Campus goose.
The school's return-to-Yale plan also includes observing Quiet Fridays, an effort to limit meetings and Zooms on that day. Two more Welcome Wednesdays are planned for October.
"Over the past 17 months, many members of the YSN community have continued working in the building while observing strict COVID-19 protocols, such as the simulation team and research faculty," said Marcia Thomas, EdD, MPH, associate dean of finance and administration. "Now that a new wave of our colleagues is transitioning to in-person work, we are excited to offer safe and inclusive opportunities to reconnect."
Security Officer Leslie Brantley, who started working at YSN in May, was thrilled to snap a selfie with the canine celebrity. 
"It was amazing meeting Dan. He's so sweet and handsome. I've seen him once, but this was my first time actually meeting him," she said.
Program Coordinator Julia Pafford came aboard YSN last October but set foot in the building for her first full day in August.
"As a relative newcomer, Welcome Wednesdays have been a lovely way to get to know the YSN community," Pafford said. "After working over Zoom and email for so long, it was a joy to meet my co-workers in-person. Hanging out with Handsome Dan and eating cookies has to be the all-time greatest work break."
Handsome Dan was accompanied by his handler Kassandra "Kassie" Haro '18, a member of the Yale Visitor Center staff. 
Kingman debuted as the new Yale mascot in March, taking over from his Uncle Walter, the 18th mascot. And he made his first university Commencement appearance during a surprise cameo at YSN in May.
Follow Us!
Check out more photos, posts, and stories of Handsome Dan's visit to YSN on Instagram @YaleNursing and @HandsomeDanYale.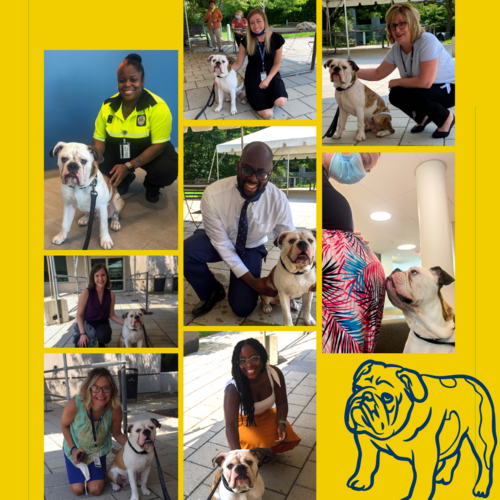 Pictured with Handsome Dan (top to bottom, left to right): 1) Security Officer Leslie Brantley 2) Program Coordinator Julia Pafford 3) Associate Dean of Finance and Administration Marcia Thomas, EdD, MPH, 4) Senior Administrative Assistant Catie Wagner 5) Associate Director of Admissions and Financial Aid Wesley Revangil 6) Digital Communications Officer Rochelle Goodwin 7) Associate Professor of Nursing and PNP Specialty Director Alison Moriarty Daley '94 MSN, PhD, APRN, PPCNP-BC, FAAN 8) Director of Communications Niamh Emerson.