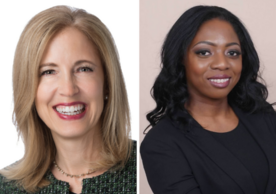 The latest issue of Journal of Nursing Administration (JONA) includes two articles by Yale School of Nursing (YSN) affiliates. 
Crucial Role of Critical Care
Dean Ann Kurth, '90 MSN, PhD, CNM, MPH, FAAN and coauthors examined "Critical Care Nursing: A Key Constraint to COVID-19 Response and Healthcare Now and in the Future." 
The article discusses how COVID-19 highlighted the crucial role and concerning dearth of critical care nurses throughout the United States. According to the abstract, "This challenge of sufficient critical care nursing resources existed before the pandemic, but now concern is heightened by the need for such crucial healthcare providers now and in the future."
The article offers strategies to address the national shortage and the challenges associated with each approach.
Also included among the coauthors are Professor of Nursing Linda Honan '89 MSN, PhD, CNS-BC, RN, ANEF, FAAN; Associate Dean for Clinical Partnerships Beth Beckman DNSc, FAAN; Chief Academic Officer and Deputy Dean of the Yale School of Management Edieal J. Pinker, PhD; and Associate Professor of Medicine and Pediatrics Richard A. Martinello, MD and Chief Quality Officer and Associate Dean for Clinical Quality Steven Choi, MD, FAAP at the Yale School of Medicine. 
Read the full article here.
Underrepresentation of Minorities in Leadership
As part of her Doctor of Nursing Practice (DNP) project while at YSN, Dewi Brown-DeVeaux, '20 DNP, BS, RN-ONC explored "Using a Mentorship Approach to Address the Underrepresentation of Ethnic Minorities in Senior Nursing Leadership." YSN faculty lecturer Judith Kunisch MBA, BSN, RN is among the coauthors.
The paper describes a nursing leader mentorship program for racial and ethnic minority nurse managers at a large academic medical center. The four-month program was modelled on a design by the Leadership Institute for Black Nurses, which was first conducted at a university school of nursing. More than a dozen nurse managers from two city hospitals and their mentors participated. 
Brown-DeVeaux is currently Nurse Leader at NYU-Langone Hospital-Brooklyn.
Read the full article here.