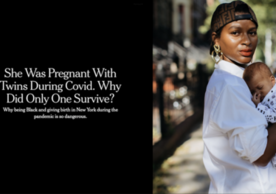 Black Maternal Health Week presents an opportunity to learn more about the Yale School of Nursing (YSN)'s expertise in this area. Lecturer in Nursing and incoming chair of the Graduate Entry Prespecialty in Nursing (GEPN) program Sascha James-Conterelli, DNP, CNM, LM, FACNM is a leader in this space, and has been a practicing midwife since 2002. Her experience also extends to political advocacy and policy.
Throughout the global COVID-19 pandemic, various media sought James Conterelli's subject matter expertise on maternal mortality. She was a guest on WNYC's "Brian Lehrer Show" for expecting mothers on best health practices and how to navigate health insurance in the midst of the COVID-19 pandemic. 
James-Conterelli also spoke to The New York Times in her capacity as President of the New York State Association of Licensed Midwives and co-chair of Governor Cuomo's Maternal Mortality and Racial Disparities Task Force. 
The Amplify Nursing podcast hosted by YSN alumna Angelarosa DiDonato, '18 DNP talked to James-Conterelli about her policy work, the challenges COVID-19 placed on marginalized communities, and the need to be optimistic about the future.
In the fall of 2020, James-Conterelli penned the editorial "The Silenced Pandemic" in the journal The Nurse Practitioner. 
"[H]eightened awareness of our broken healthcare system has been underscored by racial inequities," James-Conterelli wrote. "In the midst of a viral pandemic, the world witnessed another public demonstration of the effects of a second pandemic. Multiple murders of innocent Black unarmed citizens at the hands of law enforcement provided a devastating reminder of the silenced pandemic of systemic racism that has plagued the US since its inception."
Learn More
To learn more about James-Conterelli's journey to midwifery and her ongoing work, read "Confronting Racism During the Pandemic: James-Conterelli Charts Her Course," in the latest issue of Yale Nursing Matters magazine.