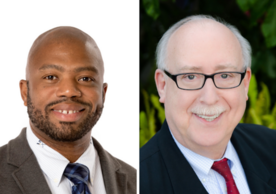 Yale School of Nursing (YSN) Associate Dean for Global Affairs & Planetary Health Dr. LaRon E. Nelson, PhD, RN, FNP, FNAP, FNYAM, FAAN served as the Principal Investigator (PI) for three recently published papers on COVID-19 vaccines. YSN Professor of Nursing Dr. David Vlahov, PhD, RN, FAAN served as a co-author on all three articles.
"Confidence and Hesitancy During the Early Roll-out of COVID-19 Vaccines Among Black, Hispanic, and Undocumented Immigrant Communities: A Review" will be published in the Journal of Urban Health's print edition later this month. 
As Dr. Nelson explained, "Black and Hispanic Americans have suffered greatly under COVID-19, and been hardest hit with infections, hospitalizations, and deaths, yet during the first several months of vaccine roll-out they had the lowest level of vaccine uptake. Our research into vaccine hesitancy among these populations focused on skepticism around the vaccine itself and the vaccine's roll-out."
The paper's analyses included expert opinion, survey results, and qualitative summaries. While the general US population expressed concerns over the speed of vaccine development, confidence in the competence of government being involved in the development of vaccines, and general mistrust of government, Covid-19 vaccination hesitancy among Black and Hispanic Americans was further expressed as mistrust in the medical establishment related to past and current medical mistreatment. Undocumented immigrants worried about access to insurance and possible deportation. 
Dr. Nelson, Dr. Vlahov, and the paper's other authors concluded that these results on confidence in the vaccine early during vaccine roll-out suggest diverse reasons that influence a person's decision to vaccinate or not. Additional barriers to vaccine uptake include complacency and access. 
A second paper, "Strategies That Promote Equity in COVID‑19 Vaccine Uptake for Black Communities: A Review," is also available online now and will soon be available in print in the Journal of Urban Health, of which Dr. Vlahov is the editor-in-chief.
The paper states that Black communities have had a high burden of COVID-19 cases, hospitalizations, and death, yet the rates of COVID-19 vaccine uptake among Blacks lag behind other demographic groups. This has been due in part to vaccine hesitancy and multi-level issues around access to COVID-19 vaccines. 
"The paper focuses on three ways to reduce hesitancy: addressing mistrust, combatting misinformation, and improving access to COVID-19 vaccines," Dr. Vlahov said. 
To address mistrust, the paper details the importance of validating the history- and experience-based reasons why people may be hesitant to establish common ground, and addressing racism embedded within healthcare. The paper also concludes that partnering with trusted messengers such as Black physicians, clinicians, and community leaders such as pastors can help reach more people.
The paper advocates for strategies to combat misinformation by dispelling myths and answering questions through town halls and culturally intelligent outreach. And to improve access to vaccines, the authors suggest using trusted and convenient sites such as churches and barbershops. 
A third paper, "Strategies that Promote Equity in COVID-19 Vaccine Uptake for Undocumented Immigrants: A Review," was published in the Journal of Community Health at the end of January.  
As the article points out, there has been a dearth of reports examining the effect of immigration status on vaccine hesitancy: while the intention to be vaccinated has been higher among adults in immigrant families than non-immigrant adults, uptake of the vaccine has been lower among immigrants and especially those who are undocumented.
"We found that immigrant families have many concerns when it comes to COVID-19 vaccines," Dr. Nelson said. "These include the lack of access to information in a language they speak comfortably, conflicts between their hours of employment and vaccination clinic hours, and fears over their immigration status, especially if they are undocumented."
"Our research suggests that vaccine uptake in vulnerable communities like these may be more successful when they build on trusted, culturally-intelligent community-based organizations that already exist. Supporting those organizations can contribute to better health equity."
Coming Up Next
Register today to join Dr. Nelson and Dr. Vlahov at 10 a.m. on Wednesday, February 23 for "From the Supply Side to the Bedside: Advancing Integrated Strategies to Promote Racial Equity in COVID-19 Vaccination."
In partnership with Science Applications International Corporation (SAIC), Yale Nursing examines drivers and potential solutions to vaccine inequities in Black, Hispanic, and Immigrant communities.
Invited guests and panelists include Congressional Representatives, Yale faculty, and national stakeholders.