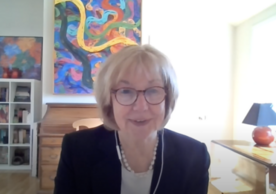 As the Zoom era stretched into the second semester, event planners took advantage of platform pluses like nearly limitless guest capacity and a wider reach beyond in-person availability. Awareness of the mute button and the chat feature also improved, and that applause function came in handy too. 
Black History Month (February) 
Ashleigh Evans '23 MSN and Renata Ndahayo '23 MSN created a full slate of events that celebrated Black excellence all month long. To read more about the social mixers, wealth-building strategies, and student loan payoff plans, see "YSN Students Promote Black Excellence with Black History Month Events" on page 22 in the recent issue of the Yale Nursing Matters Magazine.  
Admitted Student Days (February) 
The school virtually hosted Admitted Student Days on February 12 and 15, engaging with members of the first incoming class to choose the profession against the backdrop of the relentless COVID-19 global pandemic. 
"This group asked such thoughtful questions, and I hope I was able to demystify the financial aid process," said Assistant Director of Financial Aid Wesley E. Revangil. "There are so many details to keep in mind, and our goal is to help students feel confident in YSN as their choice for the next step in their careers." 
"It was an absolute pleasure to meet, and in many cases connect again, with such a brilliant and engaged group of admitted students," said Director of Enrollment Management and Registrar Jana Buck. "It is especially inspiring knowing that they chose this profession despite the ongoing greatest public health crisis in a century." 
Associate Dean of Student Life and Belonging Saveena Dhall saluted the future nurses for their decision to come forward. 
"You and your upcoming journey to become a Yale nurse signifies profound hope and light, especially at a time when we cannot overstate the exceptional need for nurses," Dhall said. "I know that you and your contributions will significantly impact the profession and the communities you serve."   
Scholars' Day (April) 
This annual celebration of nursing student scholarship took place April 9 and featured presentations from a post-doctoral fellow and YSN students from the PhD and DNP programs. It also included an impressive poster from a non-doctoral student, Alexandra Mountford '21 MSN. 
"This is an opportunity to host an exchange of information and to share the important work being conducted by YSN students and post-doctoral fellows," said event co-host and PhD Program Co-Director Lois Sadler, '79 MSN, PhD, RN, FAAN. "It is also a great chance to highlight the programs at YSN." 
Postdoctoral student Abigail Wilpers, '16 MSN, '19 PhD, WHNP-BC, presented "The Parental Journey of Fetal Care: A Systematic View and Metasynthesis."
Youri Hwang, MSN, APRN, FNP-C, gave the PhD presentation, "Sleep in Young Women with Breast Cancer: A Narrative Review." 
Third-year DNP student Esther Pavlovsky, MS, RN, presented "Evaluation of a Nurse-Led Telephonic COPD Self-Management Program on Health Care Utilization." 
Leadership DNP student Ron Yolo, MSN, MBA, RN showcased his work in a poster and a presentation titled "Preventing Hospital Readmission in Patients with Sepsis: A Multi-Modal Discharge National Framework."  
Bellos Lecture (April) 
The annual Sybil Palmer Bellos lecture was held on April 19, virtually convening a panel of nursing leaders from hospitals across Connecticut to analyze how they strategically prepared their nurses for both the sprint and the marathon of the first two waves of COVID-19.  
"There was a fireball coming up 95, and we knew if we didn't move quickly, we would be in flames," said Chief Nursing Officer (CNO) of Yale New Haven Hospital Ena Williams, MBA, MSM, BSN, RN, CENP. 
Dean Ann Kurth, '90 MSN, PhD, CNM, MPH, FAAN moderated the conversation "2020: The Year of the Nurse and COVID-19—Leadership, Innovation, and Beyond" among Williams and four other nursing administrators:
Chief Nursing Executive (CNE) of Yale New Haven Health Systems (YNHHS) and YSN Associate Dean for Partnerships Beth Beckman, DNS, RN, APRN, NEA-BC, FAAN 
CNO Anna Cerra, RN, DNP, MSN, MSHA of Greenwich Hospital 
CNO Kerin Da Cruz, MSN, RN, NE-BC, FACHE of L+M Healthcare 
CNO and current Leadership Doctor of Nursing Practice (DNP) student MaryEllen Kosturko, MAHSM, BSN, RN, CENP of Bridgeport Hospital 
Creative Writing Awards (April) 
More than 200 guests gathered on April 22 to celebrate the 18th Annual Creative Writing Awards (CWA) and to bid a fond farewell to event founder Dr. Linda Honan, '89 MSN, PhD., CNS-BC, RN, ANEF, FAAN before her retirement this summer. 
Congratulations to the three winners, each of whom earned a cash prize of $1,000: 
Nurse Midwifery/Women's Health student Camila Soto Espinoza '21 MSN won for the third year in a row with her piece, "Monotony." Her hat trick is unprecedented in contest history. 
Family Nurse Practitioner (FNP) specialty student Maxwell Shaw-Jones '23 MSN was honored for his poem "His Feet." 
Adult/Gerontology Primary Care Nurse Practitioner (AGPCNP) specialty student Tim McGehee '22 MSN was recognized for his submission "'Pain, You Say?' A Nursing Home Monologue." 
For a full event recap that includes remarks from keynote speaker Linda Villarosa, a New York Times Magazine contributor, plus details on all the winners, please see "Nursing Celebrates Liberal Arts with Annual Creative Writing Awards" on page 24 in the recent issue of the Yale Nursing Matters Magazine. 
Sleep Symposium (April) 
A quest for more and better sleep drew 80 registrants to the Sixth Annual Sleep & Symptom Research Symposium on April 30. The event featured two keynote speakers: Samuel T. Kuna, MD, from the University of Pennsylvania, and Teresa M. Ward, RN, PhD, FAAN, Co-Director at the Center for Innovation and Sleep Management at the University of Washington. 
As symposium host Beatrice Renfield Term Professor of Nursing Nancy Schmieder Redeker, PhD, RN, FAHA, FAAN pointed out, sleep is a lifelong constant. 
"Our work spans the human lifespan from birth to old age and also the trajectory of chronic conditions. Our studies include a focus on prevention of chronic health problems for people at risk, the role of sleep and chronobiology in chronic conditions, such as heart failure, stroke, and substance abuse, and sleep among people with critical illness," Redeker said.
The Sleep Symposium was cosponsored by YSN, The Yale Center for Biobehavioral Health Research, the Yale School of Medicine Program in Sleep Medicine and Pulmonary, Critical Care, and Sleep Medicine. 
Distinguished Alumni Awards (May) 
The Distinguished Alumni Awards are traditionally held during Commencement weekend, but the YSN Alumni Association plans to shift the celebration back one year and toast the 2020, 2021, and 2022 winners all together in person next spring. 
In the meantime, get the full scoop on this year's honorees (and a brand-new award!) on page 36 in the recent issue of the Yale Nursing Matters Magazine. 
Delta Mu Inductions (May) 
The Delta Mu chapter of the Sigma Theta Tau National Honor Society of Nursing welcomed new members at a virtual ceremony on May 18 with guest speaker Alexander Battu Stockton, a video producer for the Opinion section of the New York Times. 
YSN's Delta Mu chapter was chartered in 1980 and currently has more than 500 members. 
Commencement (May) 
Congresswoman Lauren Underwood, MS, MPH, RN, FAAN, one of only three nurses currently serving in Congress, addressed the Class of 2021 via a pre-recorded speech in order to comply with the university's commencement policy where only graduating students could participate in the in-person festivities. 
Congresswoman Underwood co-founded and co-chairs the Black Maternal Health Caucus, which elevates the Black maternal health crisis within Congress and advances policy solutions to improve maternal health outcomes and end disparities.  
---
this article and many more can be found in the newest issue of yale nursing matters, read more.