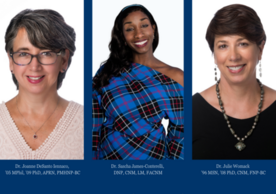 Yale School of Nursing (YSN) is thrilled to congratulate three outstanding faculty members recently selected for Fellowship in the American Academy of Nursing (FAAN) for their significant contributions to health and health care. 
"The invitation to join this community of Fellows is a career and contribution acknowledgement for these incredible nurse leaders," said Dean Ann Kurth '90 MSN, PhD, CNM, MPH, FAAN. "They consistently set the standard for pedagogy, management, clinical practice, and research, and we are delighted that their contributions are being nationally recognized."
Dr. Joanne DeSanto Iennaco '05 MPhil, '09 PhD, APRN, PMHNP-BC
Dr. Iennaco is an associate professor of nursing and director of the school's Clinical Doctor of Nursing Practice (DNP) program. Her research focuses on the effects of aggression exposure on workers in inpatient psychiatric and hospital settings, and she has worked with Yale's Occupational and Environmental Medicine research team studying the effect of psychosocial aspects of the workplace on health. Dr. Iennaco also holds a degree in chronic disease epidemiology from Yale School of Public Health. 
Dr. Sascha James-Conterelli, DNP, CNM, LM, FACNM
Dr. James-Conterelli has been a practicing midwife since 2002 and is a former president of ACNM's New York State affiliate; New York Midwives (NYM/NYSALM). She is Chair of the Graduate Entry Prespecialty in Nursing (GEPN) Program.  She serves as co-chair on New York State's Maternal Mortality and Racial Disparities Task Force and is also a member of the state's Maternal Mortality Steering Committee and New York State Maternal Mortality Review Board. Most recently Dr. James-Conterelli served as a member of the COVID-19 Maternity Task Force for New York. 
Dr. Julie Womack '96 MSN, '08 PhD, CNM, FNP-BC
Dr. Womack, associate professor of nursing without term, focuses her research on HIV and aging with a concentration on conditions that disproportionally affect women. These include falls, frailty, and functional disability. She is also a clinician and health sciences researcher at the VA Connecticut Healthcare System in West Haven, CT. 
These esteemed faculty are among a class of 225 Fellows who will be recognized at the Academy's annual Health Policy Conference in October. YSN will also be present at the conference as an opportunity for a reception to celebrate the school's 2021 and  2020 inductees, Dr. Marianne J. Davies, DNP, MSN, RN, APRN, CNS-BC, ACNP-BC, AOCNP, FAAN, Dr. Joan Kearney, PhD, APRN, FAAN, and Dr. Beth Beckman, DNSc, FNP, RN, NEA-BC, FAAN.