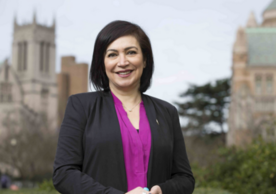 Yale School of Nursing (YSN) is delighted to welcome internationally recognized nursing leader Azita Emami, PhD, MSN, BSN, RNT, RN, FAAN as the 11th dean of the Yale School of Nursing on August 1. Dean Emami will lead the school as it embarks on its second century and will feature prominently in the Centennial launch events in September.
Dean Emami's plans for her first 100 days at YSN include a school-wide listening tour, during which she will meet with every faculty and staff member.
As President Peter Salovey shared in his initial announcement in April, Dean Emami is a renowned investigator who has called attention to the key role nurses can play in improving care in underserved communities. 
Among her many innovations, Dean Emami initiated creation of the nation's first Center for Antiracism in Nursing and has written and spoken in numerous professional settings about the ways in which both patients and the profession benefit from understanding and addressing implicit bias and historical racism.
Dean Emami joins the Yale community from the School of Nursing at the University of Washington and her research interests include antiracism, healthcare equity, dementia, transcultural care, immigrant healthcare policy, and development of cultural competence in clinical nurses. Her extensive publication history includes recent work on saliva concentration of steroid hormones in Dementia care, confronting racism in nursing, and an in-home online music-based intervention for stress among family caregivers.
Welcome to Yale, Dean Emami. Boola Boola!