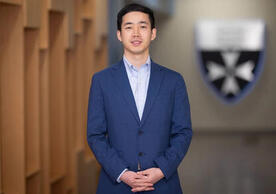 In an interview, Zhao Ni discusses his passion for global health, his go-to activities for refreshing his brain, and how family inspired his career path.
By Mallory Locklear
Zhao Ni describes himself as ambitious and passionate about global health. As a researcher, he's also remarkably productive: he's conducted research in several countries on three continents — including China, Nepal, Indonesia, Cameroon, and the U.S. — and is principal investigator of several projects aimed at preventing diseases.
In this international work, and his work at Yale School of Nursing (YSN), where he joined the faculty in 2022, Ni strives to utilize the ubiquity of digital technology to promote healthy behavior and prevent disease.
He is also a faculty lead of the Yale Office of Global Affairs & Planetary Health, which coordinates YSN's health initiatives globally and domestically.
We caught up with Ni for the latest edition of Office Hours, a Q&A series that introduces Yale newcomers to the broader university community.
Title: Assistant Professor
Research Interest: Using digital technology to promote health
Started at Yale: March 2022
How would you describe your research?
Zhao Ni: My research projects are focused on using mobile technology to promote health. I'm particularly focused on cardiovascular disease and HIV/AIDS. I develop digital-based interventions, including e-health, telehealth, and mobile health tools, and use them to help people at high risk for cardiovascular disease or HIV/AIDS to prevent these diseases and promote healthy behaviors.
Why did you choose to focus on these two types of diseases?
Ni: Early in my research career, I focused on cardiovascular disease, a leading cause of death around the world. When I became a postdoctoral associate at Yale School of Medicine, I was fortunate to have the opportunity to work in the field of HIV/AIDS. Those two diseases may look very different, but they have some similarities. For example, patients diagnosed with or at high risk of developing cardiovascular disease need to take medications daily. Similarly, people living with HIV or at risk of getting HIV/AIDS also need to take medications routinely. And digital tools can help encourage people to stay on track when it comes to taking medications.
What is your role in the Office of Global Affairs and Planetary Health?
Ni: I'm one of the two faculty leads and serve as director of international academic partnerships and programs. My responsibility is to make sure Yale School of Nursing is engaged in global settings, to educate our students from the Yale side, and to encourage our students to communicate with students, faculty members, and communities outside of the United States. Our overarching goal is to help our students develop a comprehensive understanding of health situations and priorities not just in the U.S. but also in other countries.
What made you want to pursue a career in nursing?
Ni: When I was in high school, I visited my grandmother in the hospital and saw two male nurses taking care of her. I was surprised because in China nursing is often mistakenly perceived as a low-level service, although the situation is gradually improving. My father is a physician, and he knows the importance of nurses and their responsibilities. He said nursing was waiting for development in China and encouraged me to come to the United States to study and gain better education and skillsets so that I can contribute to this important field.
What do you enjoy doing outside of work?
Ni: I really enjoy swimming and watching videos showcasing the art of cooking Chinese cuisine. These activities provide me an opportunity to relax and refresh my brain.
With projects all around the world, where is your favorite place to be?
Ni: It's a difficult question because every country I've visited has its own charm. Each place offers a unique cultural experience that is truly remarkable. However, I must say that Indonesia stands out as an exceptionally fascinating country. My collaborators there are incredibly friendly, and their passion for research is inspiring.
---
This piece originally published on YaleNews.