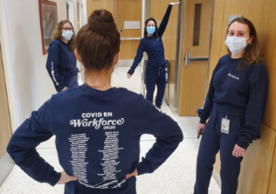 Dial the number for the Campus COVID Resource Line (CCRL) and you might connect with one of 30 Yale School of Nursing (YSN) students answering thousands of calls every week from Yale Health members who have questions, questions, and more questions about COVID-19.
One of those voices on the other end of the line is women's health specialty student Nikki Schachman '21 MSN. In addition to her usual duties for CCRL, Schachman also acts in a leadership capacity to liaise with clinicians, administrators, and care management stakeholders of all kinds. 
"I'm really glad Yale has presented us with this opportunity to contribute," Schachman said. "I think a lot of nurses on the CCRL team who have the chance to work alongside Yale Health and the university are thrilled we can provide information about testing and overall COVID information services to the community." 
The phones ring 12 hours a day, from 8 a.m. to 8 p.m., seven days a week and on all holidays. The CCRL usually answers 2,000 calls per week, but peak times can spike to double that number. Weekly call totals in August 2020 topped 4,000 as the university community prepared to return for the fall semester, and again in November 2020 when callers made their holiday plans. 
The resource line answered its first phoned inquiry in March of 2020. Each four-hour shift is staffed with eight to 12 RNs, and the CCRL staff currently includes about 45 RNs. Approximately two-thirds of that number are YSN students.
Nanci Fortgang, RN, MPA, CMPE, the Yale Health Chief Clinical Operations Officer, is highly complimentary of YSN student contributions.
"The nursing students have played a significant role in our pandemic response," Fortgang said. "They provide support and accurate information on all things COVID for the community. This includes symptom assessment, triage, testing, resulting teams, and now vaccine information and support. It is truly a win-win, as we benefit from highly motivated, smart nurses, and they gain outstanding clinical experiences and professional relationships. Their role has been invaluable, and I am enormously proud of their contributions."
Jeffrey Stay, RN, Manager of Employee Health and Acute Care, saluted the CCRL staff's ability to adjust to ever-evolving coronavirus guidance and handle any other ancillary questions that pop up.
"The CCRL staff has adapted from starting out as just an information line for the university and has evolved to providing expertise on information from testing to isolation, to quarantine, to vaccine and even laundry and the best places for food delivery," Stay said.
In addition to subject matter expertise, sometimes callers are also looking for a bit of emotional reinforcement about taking the next step. Stay said that under those conditions, the YSN students and the rest of the CCRL staff can provide an extra measure of reassurance.
"They carry themselves over the phone lines in a calm manner and help de-escalate the anxiety of callers who may have symptoms. The YSN students are sensitive and very intuitive," Stay said. "They are an extremely bright, resourceful, and caring group of individuals."
Schachman said the most memorable conversations are the good news chats with patients who have just qualified for the vaccine. 
"Those are the best calls," Schachman said. "Everyone is so grateful, especially our age 75 and older members, who can have difficulty accessing My Chart and scheduling. To be able to accommodate them and talk to them on the phone, to celebrate the fact that they're getting their invitation, and hear their experiences living through the pandemic is so rewarding."
Call the Campus COVID Resource Line (CCRL)
If you are a member of the Yale community and have questions about COVID, call the CCRL at (203) 432-6604 or toll-free at (866) 924-9253.
If you are not a Yale Health member, call Yale New Haven Health (YNHHS) at (833) ASK-YNHH (833-275-9644) or visit ynhhs.org.