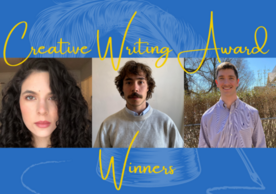 The warm strings of a cello bowed by Yale College senior Alma Bitran welcomed more than 200 guests on April 22 to celebrate the 18th Annual Creative Writing Awards (CWA), a strong tradition of the liberal arts deeply embedded in the Yale School of Nursing (YSN). 
Festivities included a keynote address by New York Times Magazine contributor Linda Villarosa, congratulations for an unprecedented three-time winner, and a farewell to retiring faculty member Linda Honan, '89 MSN, CNS-BC, RN, ANEF, FAAN who founded the CWA.
Villarosa shared her experience as a writer and journalist covering race, inequality, and health. Her essay on medical myths appeared in the "The 1619 Project" in the New York Times and her most recent reporting covers the toll COVID-19 has taken on Black communities and the environmental justice movement in Philadelphia.
"Both journalists and healthcare providers of all kinds have been told that emotions have no place in our work and that at a minimum, they're an impediment to success and at worst they're dangerous and even deadly. As a young journalist, I was told these words."
Villarosa recalled reporting a story for Essence in 1986, so early in the AIDS crisis that it was called GRID (Gay Related Immune Deficiency). During an interview with a visibly ill young woman, Villarosa lifted the curtain that usually concealed her emotions. She held the woman's baby, a super cute toothless toddler with a mouth full of thrush, an infection common in HIV patients. 
But Villarosa wrote the story with the curtain firmly back in place, unable to access her feelings while simultaneously coping with the sober nature of the story. Neither the mother nor the baby made it to publication the following year. Looking back, Villarosa now thinks she could have written a stronger piece as a professional if she had allowed herself to tap into her emotions as a person. She applauded the CWA winners for coming to this realization sooner.
"What I see in the work of this year's winners of the Yale School of Nursing's Creative Writing Awards is so much big, thick heart."
Camila Soto Espinoza
Nurse Midwifery/Women's Health student Camila Soto Espinoza '21 MSN ascended to the podium for the third consecutive year. The contest has honored two-time winners before, but Soto Espinoza's hat trick is unmatched in the history of the contest. Villarosa described Soto Espinoza's essay as gorgeous and full of heart.
Her 2021 piece "Monotony" draws on her experience as a first-generation, international student from Chile supporting herself while attending YSN during the COVID-19 global pandemic and civil unrest that threatens her family in her home country.
She is a Yale Global Health Fellow at UNICEF, a CNM intern at Mass General Hospital in Boston, an RN supporting Yale's efforts to keep the community safe during COVID, a student co-chair of YSN's diversity committees, and an assistant in at least one research project.
Delve into the archive to read Soto Espinoza's 2020 winning submission, "Focus," and her 2019 piece "The Women of My Family."
Maxwell Shaw-Jones
Family Nurse Practitioner (FNP) specialty student Maxwell Shaw-Jones '23 MSN chose poetry over prose for his submission, and he was honored this year for the lyrical lines called "His Feet." Villarosa praised his piece as both stunning and bittersweet.
The poem explores how the long-ago comfort of a simple foot massage for a dying man echoes down through the years to a modern patient today.
Shaw-Jones graduated from Middlebury College with a degree in English in 2018 and has since worked as an island caretaker and a fiberglass laminator before realizing he wanted to become a nurse. He is interested in the ways nursing can be used to address issues outside of what fits the typical definition of "health" and will be co-facilitating the US Health Justice elective at YSN in the fall of 2021.
Tim McGehee
Adult/Gerontology Primary Care Nurse Practitioner (AGPCNP) specialty student Tim McGehee '22 MSN was inspired to write his piece by " 'Frost, You Say?' A Yankee Monologue" by fellow Yalie Marshall J. Dodge with Walter Howe. 
McGehee's winning effort is called " 'Pain, You Say?' A Nursing Home Monologue." The speaker provides an overview of the patients occupying the dozen rooms he is responsible for this evening, with fevers and paperwork interrupted by humorous asides. Villarosa heralded his entry as the embodiment of listening with the heart.
Before becoming a nurse, McGehee served in the US Coast Guard as a machinery technician and earned his bachelor's degree from the University of Connecticut. He has worked in nursing homes as both a CNA and an RN. Following graduation from YSN, McGehee plans to work in primary care with the Veteran's Administration. 
Each of the winners took home a check for $1,000.
Honan's Farewell
"As many of you know, this signature occasion for our community would not have come into being, without its creator and nurturer Dr. Linda Honan," said Dean Ann Kurth, '90 MSN, PhD, CNM, MPH, FAAN. "This is a moment to acknowledge Linda's exceptional creativity, fierce dedication to her students, and blazing impact on nursing education. The Creative Writing Awards will continue on as a cherished tradition for our school because Linda birthed and grew it."
Honan's last day at YSN will be in July. The audience included former students stretching back at least 25 years.
"Like Mary Poppins the wind has changed; the mist is rolling in," Honan said. "And it's time for me to leave, even if it is hard. I have been honored to teach now thousands of GEPNs for over three decades, and I have loved almost every minute of it."
Honorable Mentions
Congratulations as well to the students whose selections were saluted as Honorable Mentions.  They are: Kendall Cote '23 MSN, Helen Day '23 MSN, Ashleigh Evans '23 MSN, Stacey Frizzell '23 MSN, Leoncia Gillespie '23 MSN, Elizabeth (Libby) Grant '23 MSN, Kay Green '22 MSN, Kierra Jackson '21 MSN, Nicole Kuhnly '21 MSN, Jill Langan '21 MSN, Kathleen Lessard '23 MSN, Sarah Ann Lovell '22 MSN, Kylee Martin Horlacher '23 MSN, Sajni Persad '23 MSN, Jordan Quintin '23 MSN, Marina Rosenberg '23 MSN, Kendall Tamler '21 MSN, and Shiliu Wang '23 MSN.
Reviewers and Judges
Nearly 50 submissions were first reviewed by Nina Adams, Dr. Deborah Fahs, Betsy Groth, Dr. Lorence Gutterman, Katie Pellico, Mary Pierson, and Shel Swanson.
Once the submissions were winnowed, they advanced to a panel of four judges for final consideration. Echo Heron, critical care nurse and New York Times bestselling author of nine books; Anne Fadiman, award-winning author, essayist, editor, and teacher; Anna Quinlan, Pulitzer-Prize winning author; and Lee Woodruff, author of three bestselling books. 
Video and Full Essays
To watch a full recording of the event, stay tuned to the YSN YouTube channel. To read the top 25 submissions, check out the chapbook here.